Poolside Decking Installation with CleverDeck from Futurewood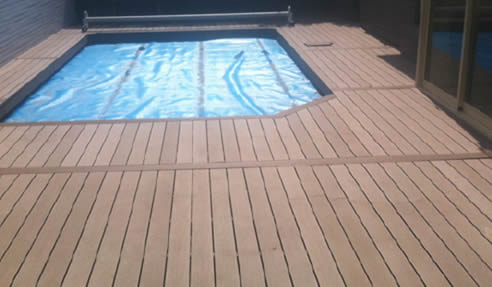 Decking Installation for Poolsides and other areas with Water Features
Decking installation for Poolsides are becoming popular in Australian properties. Decking, after all, is a great way to enhance the look of an area that surrounds water features without the need for complicated renovations or a design overhaul. Whether the project is improvisational or intricate, major considerations have always been focused on finding the right decking materials.
The point being that outdoor areas with water features require decking materials that have higher consistency with the safety and quality standards, but a low requirement in terms of maintenance. Specifically designed to meet these new criteria, CleverDeck composite decking solution from Futurewood offers a great alternative.
Clever Choice, Smart Alternative: CleverDeck Composite Decking
As the traditional timber decking is no longer a popular option due to the depleting source, environmental concerns, and high-maintenance issues, more decking projects for areas with water features are utilizing composite and plastic decking products - and for a great deal of practical reasons. Exterior decking application areas with water features such as pools, tubs, or fountains, CleverDeck could easily pass as the best pick among the newly available decking materials on the market.
Being a wood composite material, CleverDeck is a high-quality, sophisticated, and environmentally sustainable timber alternative product. It is easy to install, virtually maintenance-free, and fully complements the functionality requirements that are typically laid out when decking a water-surrounded area.