Composite Wood Decking Ideas for Public Infrastructure from Futurewood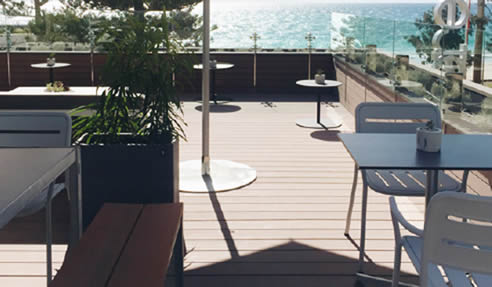 More and more decking in public spaces such as parks, boardwalks, pedestrian bridges, footpaths, landscaping and streetscapes are constructed every day. It is thanks to the efforts of Local Councils who develop sustainable infrastructure to provide a safer and livable community for their residents.
One of the key challenges of decking is finding a suitable material. Specifying the right decking component determines the long-term success of a project. Design flexibility, durability and low maintenance requirements for any material to ensure safety and minimise replacement and upkeep costs in the long run.
Decking with natural timber is a tale as old as time. Initially used on ships, it is now commonly used on public, commercial and residential properties that aim to achieve a smooth, natural look. However, there are structural and warranty concerns about timber that could potentially grow to be a nuisance in the long run. To mitigate these concerns, more and more are specifying composite wood as an alternative.
An excellent example of composite decking that can be used for public spaces is Cleverdeck from Futurewood. Cleverdeck is made with wood-plastic composite; this means that it is resistant to termites and white ants, a known vulnerability of natural wood. These characteristics are necessary, especially in parks and nature reserves.
Another benefit of using Cleverdeck is its low water absorption rate and immunity to rotting due to wood decay fungus, moulds and mildew, making Cleverdeck an ideal surface for bridges, lakeside or seaside decking or used near a water feature without compromising its structural integrity.