Waterproofing Membrane Specifications from Pasco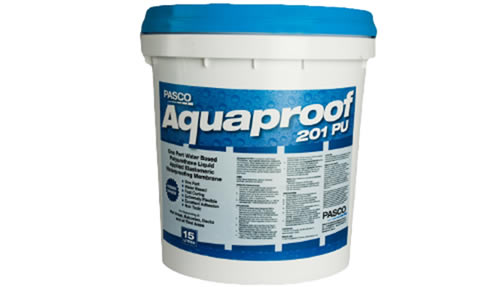 Waterproofing uses a combination of different materials to prevent water from seeping into the structural elements of a building. The process of waterproofing entails complex and thorough specifications from the architect and building designer since it is a method which integrates some building components, such as roofs, walls, basements, and foundations.
Pasco Construction Solutions is a Victoria-based company that supplies an extensive range of waterproofing and silicone sealant products in the market today. Pasco wants to share their expertise and raise awareness on the vast number of waterproofing methods and products, focusing on the ultimate goal of helping each client choose the appropriate waterproofing or construction materials that suit their specifications.
Pasco is the proud distributor and supplier of Aquaproof 201PU and Aquaproof 201FR waterproofing membranes.
Aquaproof 201PU Waterproofing Membrane from Pasco
Aquaproof 201PU is a non-toxic, one part water-based polyurethane elastomeric waterproofing membrane. It forms a flexible, and seamless membrane with excellent adhesion.
Aquaproof 201PU is compatible to use in bathroom applications like shower recesses and under tiles. It can also be used on balconies and laundry areas. The easy-to-apply liquid waterproofing membrane conforms to the AS/NZS 4858:2004.