On Site Detention Tank System from Atlantis Corporation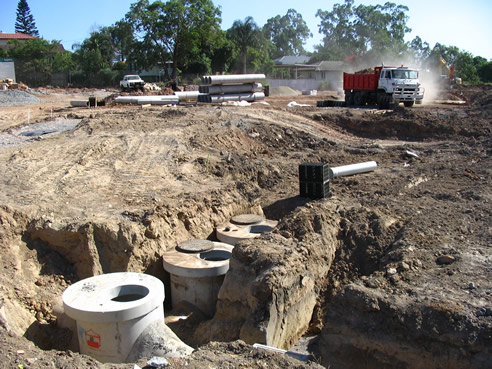 Atlantis on site Detention tank OSD at Orange Grove Villas, Sailsbury Brisbane.
This project incorporated the Atlantis Flo-Tank® detention tank system and a custom pre stormwater filtration device.
The Atlantis Flo-Tank® is a structural lightweight modular tank system used to construct underground water storage for various applications. The modular nature of the system allows for the easy construction of tanks of any volume and can be designed to accommodate specific site conditions.
Designed to reduce post development flows to Oxley Creek. It consists of an offline 35 cubic metre Atlantis stormwater detention tank receiving water through an Atlantis designed twin pit stormwater filter to help remove debris from entering the Atlantis Flo-Tank® tank modules.
Cost Effective Stormwater Gross Pollutant Trap (GPT)
The twin pit design is made from readily available standard concrete pits and pvc plumbing fittings and is highly effective at removing both gross pollutants and sedimentation from entering the tank system.