Clear Mirror Glass for Polished Concrete from Schneppa Glass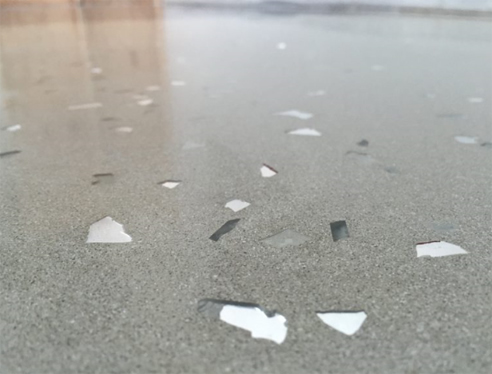 Schneppa Glass offers a clear mirror glass, which is clear glass which has been crushed and carefully tumbled, then graded. It is then sprayed on one side with a quality mirror coating and mixed with clear coated glass for additional depth.
Clear mirror glass looks absolutely amazing in polished concrete. If the mirror lands on the bottom, you will get a sparkling mirror effect with a great, deep reflection.
If the glass lands with the mirror coating on top, you will get the clear glass effect, as the side with the mirror coating is ground off during the cutting process and then polished.
Mirror glass is a very effective aggregate for use in terrazzo bench tops, terrazzo flooring and both polished concrete house slabs and external polished concrete applications.
You can choose from either 5-10mm glass or our ever popular 5-30mm flats.
The clear mirror pieces look great when used either on their own or combined with your choice of coloured glass from our 5-10mm range or one of our custom pre-mixes.