Expanded Polystyrene Foam Blocks: Styroboard® Case Study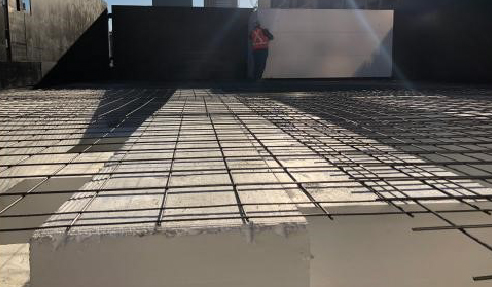 Foamex's trademark product, Styroboard® Expanded Polystyrene (EPS) has long lead the building, construction, and signage industry across Australia. With versatile, well-rounded features and benefits, Styroboard® EPS is highly valued by major construction professionals and is used for a wide range of residential and commercial applications.
Styroboard® Expanded Polystyrene Foam Blocks in the heart of Melbourne's Central Business District (CBD)
In partnership with global construction company Multiplex, Foamex recently supplied a total of 400+ 5m long blocks (approximately 700m³ of) Styroboard® EPS for the protection of the on-going construction of a 39-level office building located at 405 Bourke Street in Melbourne's CBD.
Multiplex is planning to launch the approximately 167-metre high office building in early 2021. The iconic building will feature 30 premier office floors and an overall state-of-the-art business environment in the heart of Melbourne's CBD. In case of an unlikely crane load drop incident from the construction of an adjacent building, the lightweight foam blocks were used as a "crash pad" on the sky floor.
Styroboard® EPS blocks were employed due to their versatile, reliable, and lightweight attributes, which enabled a faster and cost-effective construction process. The Styroboard® Blocks were lifted from the street to the top of the building with ease given the light volume of the products. They were effortlessly carved to specific lengths in a profile to match the criss-cross installation pattern with 5 layers of different Styroboard® EPS densities.
Styroboard® EPS blocks have successfully provided maximum site protection on the office building despite some challenges faced, including the travel of at least 4 truckloads per day from the manufacturing facility in Bayswater Victoria, 40km away from Melbourne CBD, and over 7 days. The operation was carefully planned and was a definite success with clear communication between Foamex and the Multiplex team.
In compliance with environmental sustainability, Foamex will responsibly return the EPS blocks to the recycling facility in Bayswater after the construction is complete, to be redesigned and reused for another project.
For more information about the Styroboard® Expanded Polystyrene Foam Blocks, contact Foamex or visit www.foamex.com.au.