Styroboard® Lightweight Expanded Polystyrene Sheets for Different Applications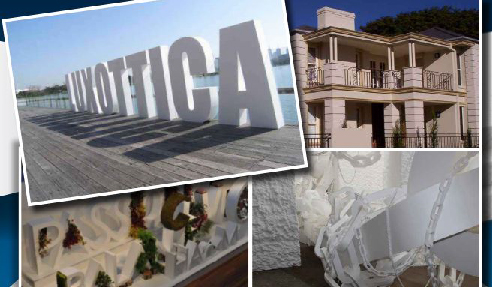 Styroboard® lightweight expanded polystyrene sheets by Foamex are a flexible material suitable for all types of building and construction use, as well as protective packaging and creative design applications. Expanded polystyrene sheets are lightweight as they are made of millions of tiny air-filled bubbles, resulting in hallmark technical properties, such as rigidity, dimensional stability, workability, thermal and acoustic insulation.
The vast range of applications for Styroboard® lightweight expanded polystyrene sheets enables them to perform various functions that span different applications. Foamex categorises the function of the sheets by putting them into three main categories:
Building and Construction
Protective Packaging
Creative Design
Building and Construction
The unique physical properties of Styroboard® lightweight expanded polystyrene sheets, such as low thermal conductivity, lightweight, excellent mechanical resistance, low water absorption, ease of handling and installation, chemical resistance, and flexibility make it the material of choice for various building and construction projects.
Some of its common applications include:
Lightweight Void Filler
Acoustic Insulation
Thermal Cladding
Roads, Bridges, Railways, Public Infrastructure
Underslab Insulation
Protective Packaging
Lightweight expanded polystyrene sheets provide the ideal protective packaging for any industrial high-value heavy product. Expanded polystyrene adapts well to integrated production systems, therefore giving full product protection from risky transport and handling mishaps.
The following features make lightweight expanded polystyrene sheets ideal for packaging:
Shock Absorption
Thermal Insulation
Resistance to Humidity
Compressive Strength and Resistance
Chemical Resistance
Hygienic Material
Creative Design
Aside from its protective packaging and building and construction applications, the Styroboard® lightweight expanded polystyrene sheets can also be used as a creative medium. Its lightweight nature provides ease of use when creating designs for shop fittings, props, event decorations, signage, and EPS lettering.
Foamex utilises a state-of-the-art hot-wire cutting machine to form Styroboard® panels into the required shape and size. The expanded polystyrene sheets are water resistant and durable, meaning they are able to preserve their quality and function even after prolonged exposure to elements. Expanded polystyrene sheets are adaptable beneath many types of texture coating, paint and polyurethane adhesive. Consequently, making Styroboard® lightweight expanded polystyrene sheets an ideal material for creative design.
Explore the many applications and features of Styroboard® lightweight expanded polystyrene sheets. Contact Foamex or visit www.foamex.com.au for more details today.