CROSSRAY Infrared BBQ by Heatstrip® from Thermofilm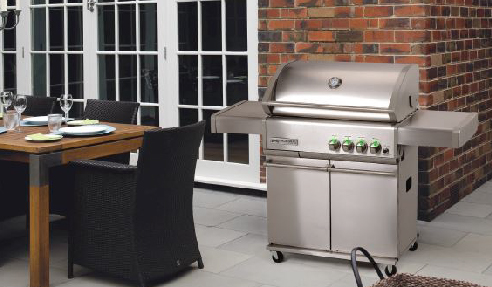 CROSSRAY - A History of Technological Innovation and Development over 10 Years
Thermofilm Australia Pty Ltd is proud to announce the launch of the new Award-Winning CROSSRAY Infra-red range of BBQ's, available nationally at Harvey Norman. The design challenge was to create something truly "NEW" in the BBQ market, to make barbecuing easier, smarter and better. To increase your BBiQ: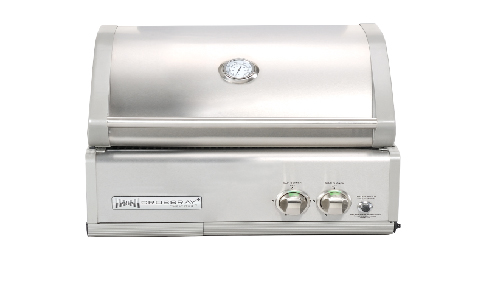 Redefine the outdoor gas BBQ so that it can perform exactly like cooking outdoors over a bed of red-hot coals.
Create an even heat over the entire cooking area, and devise a means to stop any flare-ups and be fully controllable.
Incorporate a system that will also function as an infrared oven, in the way of a traditional wood-fired stove such as the AGA, that produces tastier and juicier food.
Act as a true multi-function appliance, so the consumer needs only one outdoor appliance that can act as a pizza oven, outdoor oven, long slow smoker and an exceptional BBQ grill.
The revolutionary design solution has been refined and improved with patented burner technology. Fundamental to the design is the surface combustion gas fired infrared burners. These are uniquely mounted within the actual grill casing, under the cooking plates. The burners are mounted at an angle that directs the infrared heat evenly over the entire cooking area.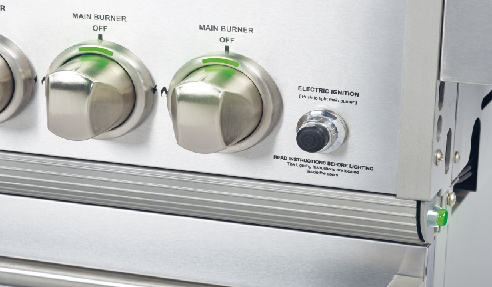 As a result of this revolutionary design, the CROSSRAY is able to reach temperatures around 50% higher than a similar sized, traditional gas BBQ.
In fact, the CROSSRAY is the only BBQ that can provide controllable, even heat from 100°C to nearly 400°C. Amazingly, these higher temperatures are achieved while using 50% less gas than a similar sized conventional unit.
Collaboration with Design Excellence
Early in its development, the CROSSRAY was embraced by the team at Porsche Design Studio who took the patented infrared technology and housed it within a sleek, sports car style body. Their interpretation of the "grill car" was considered a masterpiece - highly functional and stylistically pure. The result was widely heralded as the "Porsche of barbeques" and placed CROSSRAY at the pinnacle of outdoor cooking.
About CROSSRAY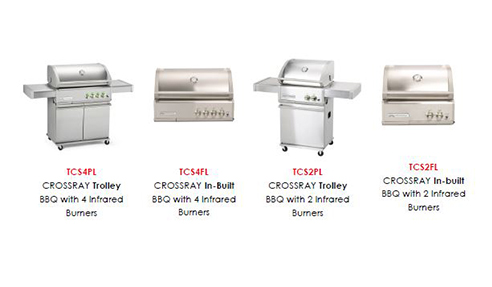 The patented CROSSRAY® system uses infrared burners mounted at the sides of the barbecue, angled up at the cooking surface. Because the burners are infrared, they have superior performance to traditional open-flame burners. Infrared heat penetrates your food, keeping it moist and fresh, whereas an open flame just heats the air around it, ultimately drying it out. CROSSRAY+ infrared burners are also more efficient and cook faster than traditional burners, so your food is ready sooner and you use less gas. As the burners are not directly beneath the cooking surface, fat and juices can drain away, reducing smoke and virtually eliminating the flare-ups that char your food and leave the inside of it uncooked. Infrared burners provide significantly more heat and use less gas, meaning better performance and lower running costs.
Heats up quick smart
Patented, proven infrared technology
The smarter, easier way to cook
The intensity and quality of charcoal with the convenience and control of gas
Infra-Red Technology: Patented and proven infrared technology means the CROSSRAY delivers wonderful, intense heat like red-hot coals - food is tastier and juicier.

Fast: CROSSRAY heats up quickly and the infrared technology cooks food evenly with no 'hot & cold spots' - reducing cooking time. So Easy to Use: From patented to pizzas, vegetable to veal or fish to eye fillet, BBQing has never been easier or more fun. Cook from Low n' Slow at 110°C to pizzas at 350°C.

Multi-Purpose: BBQ, Grill, pizza & outdoor oven, smoker, Low n' Slow - CROSSRAY is the only appliance you'll ever need. Lid up or Lid down.

Total Control: CROSSRAY's angled infrared ceramic burners use significantly less gas and give you 'whole-BBQ' temperature control, with virtually no flare-ups and less smoke.

Self-Cleaning: The closest thing to a self-cleaning BBQ you can get, After use, simply run on HIGH for 5-10 minutes to significantly reduce clean-up, as most of the food residue is simply burnt off.

Superb Results: CROSSRAY give you an expert, professional results for the ultimate cooking experience.

Large Cooking Surface: The 2-piece upper level is a true additional cooking area, ideal for roasting large meats (such as chicken, beef, ribs etc.), fish, vegetables and pizza - providing an extra 60% of the cooking surface.

Award-Winning Design 2018

CROSSRAY has been recognised for its design excellence - recently taking out a coveted Good Design Award for outstanding product design and innovation.
The Good Design Awards Jury commented: "The Jury was impressed with the robust double-skinned doors and LED lights used to operate the switches and control knobs. Material choice (ceramic coating) on the grilles is excellent and provides great performance. The patented heating elements and ease of cleaning is a big plus that will set this product aside in a very competitive market," DR Brandon Gien, CEO, Good Design Australia.
Please visit www.thermofilm.com.au for more information on CROSSRAY.