Proven Cleanable Flocked Flooring - Flotex by Forbo
Proven Cleanability Benefits of Flotex Flocked Flooring
Electrostatically flocked flooring performs like a resilient. It combines the warmth, acoustic, and underfoot comfort benefits of a carpet with the cleanability & durability of a resilient flooring. Its unique construction offers many styles and functional benefits that perform term after term, year after year.
Flotex is made from 70-80 million nylon 6.6 fibres. These fibres are solid in construction, with nylon 6.6 being the best option for flocked flooring due to its superior soil hiding capabilities and high melting point in comparison to other yarns.
The dense surface pile makes them extremely durable, while the upright nylon fibres and impermeable PVC backing means products can be cleaned right down to the base. The nylon fibres capture allergens and fine dust from the air, which are easily released with regular use of a standard upright vacuum and contributing to better indoor air quality. Indeed Forbo's Flotex has been awarded the prestigious Allergy UK Seal of Approval™ thanks to the fact it does not harbour allergens.
A recent study performed by Cleaning Research International compared the cleanability of a flocked pile floor covering against a loop pile and cut pile carpet sample. Each of the floor coverings were cut to the same size and after being conditioned in the standard atmosphere for testing textiles, the samples were weighed. Each sample was then soiled in accordance with BS EN 1269:1997 following Method B, using 10g of standard soil as specified in the standard. After soiling, the samples were reconditioned and reweighed. The samples were then cleaned by vacuuming with an upright vacuum cleaner fitted with a brush, a spray extraction, and a contra-rotating brush cleaner. At each stage, when dry, the samples were reconditioned and weighed to determine how much soil had been removed.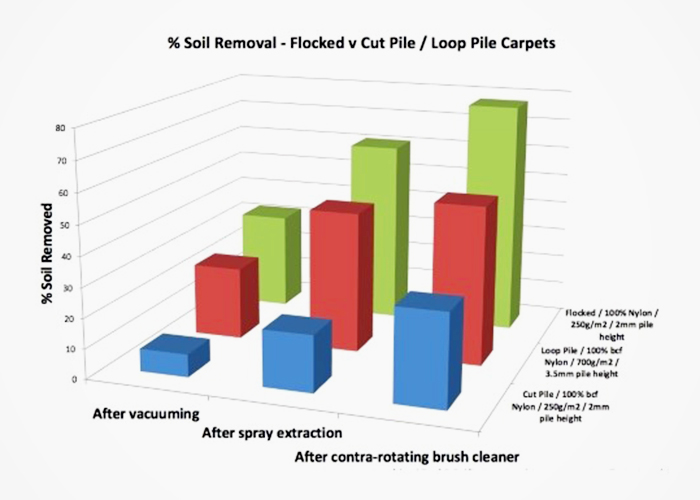 To learn more about Flotex, visit www.forbo-flooring.com.au today.