Aluminium Building Products Award-winning Showroom by DECO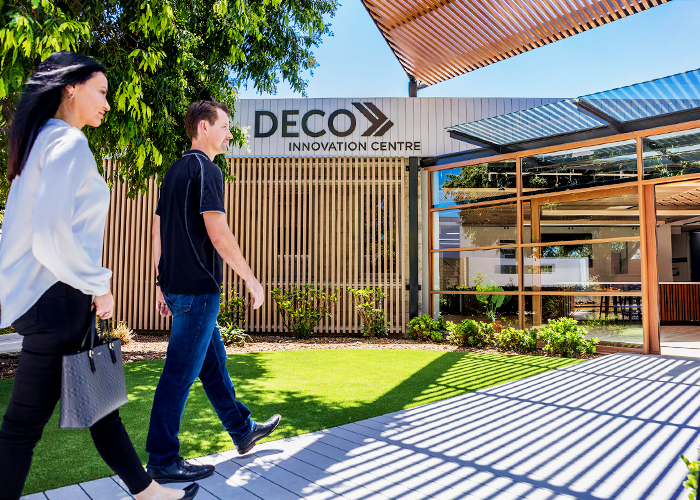 DECO Innovation Centre Wins AGWA Design Awards Large Showroom of the Year
Leader in aluminium building products and finishing technologies, DECO Australia is proud to announce its display centre, the DECO Innovation Centre, has won the 2021 AGWA Design Awards Showroom of the Year: Large Showroom Award. The renowned AGWA awards celebrate excellence in window, door, and finishing solutions. Their Showroom of the Year Award recognises excellence in workmanship, design, functionality and style of showrooms.
The DECO Innovation Centre is a unique showroom offering an interactive experience for its customers. Featuring DECO's exclusive range of timber-look aluminium building products and finishes, the DECO Innovation Centre showcases products full size and in the context of a building. From battens and cladding to shutters and louvres finished in DECO's unique DecoWood® finish, customers can see and touch the products plus visualise how they can be integrated into their own projects.
With friendly staff on hand to guide customers through their journey, and beautiful spaces ideal for industry networking events, the DECO Innovation Centre is a one-of-a-kind display centre which stimulates imagination and creativity.
"The DECO Innovation Centre is a first - it is more than just a showroom or display centre; it is an entire customer experience," said DECO director, Ross Doonan. "This award highlights what an innovative, customer-focussed, and effective showroom it is. The sky's the limit with our effortless, timber-look products - and the DECO Innovation Centre helps customers see just how creative they can be."
For more information on the DECO Innovation Centre or to book an appointment when the centre reopens, visit www.deco.net.au.
About DECO Australia
DECO Australia is an Australian family-owned business and leading manufacturer of timber-look aluminium architectural building products. DECO offers innovative, super durable sublimated powder coating finishes for architectural products, and is well-known for its popular timber-look architectural range, including DecoClad, DecoBatten, DecoDeck, and DecoSplash. For more information visit www.deco.net.au.
About AGWA
The Australian Glass and Window Association (AGWA) is the top association for the window and glazing industry. With over 1000 member companies including window manufacturers, glaziers, finishing companies, and more, AGWA endorses compliant, beautiful, and sustainable window and door products. AGWA's annual Design Awards celebrate good design, innovation, creativity, and functionality. For more information visit www.agwa.com.au.