Acoustica Noise Control keeps it nice and quiet.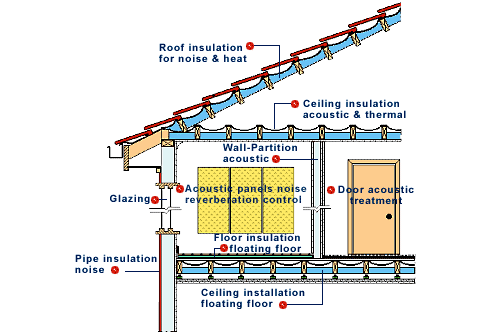 Acoustica™ manufactures and supplies engineered specialised, efficient and cost effective acoustic products.
Our range includes, but is not limited to the following:
Acoustiflex® - flexible acoustic barriers ranging from 2 kg - 10kg/m2
(STC 22 - STC 34) for installation in walls, ceiling, floors.
White Batts® - a range of 100% recyclable sound absorbers/thermal insulation material with densities from 4 kg/m3 to 140 kg/m3. It is clean, non itchy, approved by the asthma foundation and is used extensively in clean rooms.
KlipTex® - Stretch fabric upholstered wall system for acoustic or purely decorative purpose. This system permits the installation of virtually any fabric to walls and ceilings.
Acoustic Doors & frames - hand made specialised acoustic doors to RW50, complete with heavy duty acoustic seals.
Acoustic window systems - in western red cedar, marine grade aluminium or uv resistant PVC materials.
Pipe Lagging - to quieten all noisy water or refuse pipes.
1300 722 825
Ground Floor, 6A Nelson Street, Annandale, NSW, 2038