Roof space converters Attic Ladders win MBA award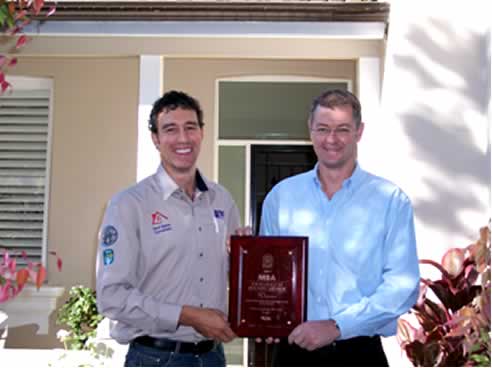 It's difficult being both innovative in design and cost-effective at the same time, however, Attic Ladders and its renovation & extension division Roof Space Converters (RSC) have won an MBA award for just that.
John Stewart's family company Attic Ladders have pioneered in Australian innovative & sustainable building solutions.
In recognition of John's work he has been awarded NSW Master Builders Association Excellence in Building for the alterations & renovations category up to $150,000.
This was for no ordinary renovation! John and his family have specialised in renovations and extensions of existing roof spaces for over 32 years.
John Stewart's mission is building innovative and sustainable solutions for families with an emphasis on low environmental impact, coupled with being highly cost-effective.
John Stewart explains, "Sure we are all aware how critical environmental considerations are, yet, it must be affordable & design effective! The difference with our solution is we use much of the existing materials within the roof space, providing better utilization of materials, space, without increasing the overall building footprint!"
The MBA Judges commented, "This attic conversion comprises two bedrooms and a large bathroom built within the existing roof, as well as the addition of sympathetic dormers that provide light, views and headroom. The new extension has good cross-ventilation and takes advantage of water views."
John Stewart added, "We use the most modern building techniques to ensure the design is energy efficient. The capture of natural light, airflow's and use views is all long-term added value; it must be considered in the design & will make all the difference."
John Stewart is a dedicated builder, having started his building company in 1975 which now has branches in Sydney, Melbourne, Adelaide and Perth.
Attic Ladders / RSC has been an MBA finalist on numerous occasions over the years, including the substantial $750,000 - $1 million renovation/extension category" for 2007. "Not only can we build great solutions for under $150,000, now demonstrated by this award, we can apply the same principals to very exclusive properties; they are all appealing to work with, they each other particular challenges and opportunities." said John Stewart.
Accepting the award on behalf of the Attic Group, was Roof Space Converters project manager, Warwick Wright. Accompanying him on stage to help carry away the trophy were the principal members of the 'team' which created the award-winning conversion - master carpenter Denis Moynihan, master plumber Peter Cook and RSC senior sales consultant Emmory Somerton.
In accepting the award, Warwick, gave praise to his team of experts. "If you surround yourself with good people you come up with a good product and this fantastic job which earned us the award is testament to that. We are very proud of this achievement as we strive very hard to build something special for our customers," he said.
The owners of a single-story home in Waverley spent $135,000 on turning this previously wasted space in the roof cavity into valuable living space, providing the owners with much-needed living space for a growing family.
The owners commented, "This is a superb conversion providing a pleasant north-easterly aspect which takes in the views. We are delighted with Roof Space Converters design and their building expertise."
A green solution now exists for converting your roof space into anything from a dust-proof room to something like the Waverley home extension by teaming up with Roof Space Converters.