Wide timber board water-based finish by Synteko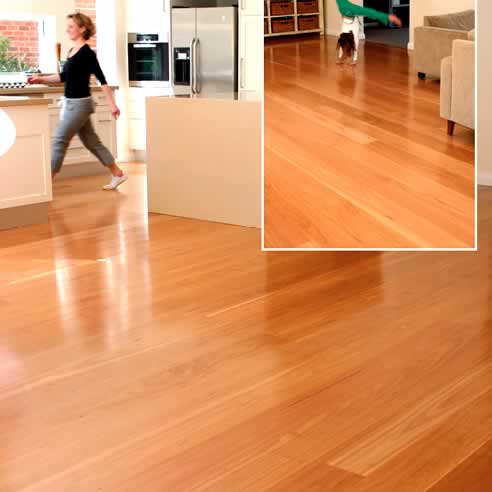 Wide boards are a unique look in timber flooring but really look their best in large expanses of floor space. This home in Sydney was the perfect floor plan for wide boards with 120m² of floor space in the kitchen and open plan living area alone.
Supplied and installed by ATFA member Nash Timbers, the floor is a 180mm x 20mm North Coast Blackbutt tongue and groove strip floor, secret nailed and glued to battens on a concrete slab.
The timber is sourced from ATFA member Hurford Hardwood in Lismore and comes under the eco-select brand. It is a "prestige" grade product, which includes some gum veins and the growth rings that are common in Blackbutt and emphasised in a wide board profile.
Native hardwood timber was the floor covering of choice for owner's Greg and Fiona McManus with a family of four active kids (some of them gymnasts) who also needed to avoid dust and allergens for the asthmatics in the family.
"I didn't even consider tiles or stone for this space," says Fiona. "We love the warmth of timber and chose Blackbutt for its neutral colour."
The floor has been coated with a product from another ATFA member, Synteko water-based finish.
"Synteko is a very good product," says David Nash of Nash Timbers. "It's much better for the environment than some other finishes on the market."
Nash Timbers specialise in wide flooring and native timbers with over 20 years in the industry. Husband and wife team, David and Jane Nash are passionate about recycled timber and sourcing new timber from trusted sources. All mills that deal with Nash Timber are certified to supply logs from forests that are managed sustainabley by State Forests.
David was one of the first people to deal in recycled flooring. Two decades ago, he began sourcing timber from domestic demolitions and later from large industrial sites such as the old wool stores in Pyrmont, Ultimo and Darling Harbour.
The timber would be de-nailed and sawn into boards up to 250mm wide. "Wide boards are not a passing fashion," says David. "They have been in high demand since I have been in the timber flooring business and they're here to stay."