New Generation Stacking Wall & Automatic Sliding Door System from ADIS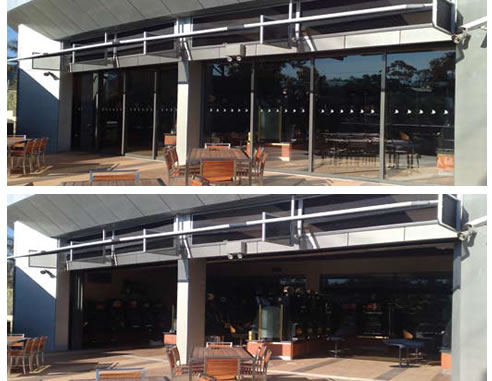 ADIS NG STACKER
2 in 1 Automatic Stacking Door System
Moving wall system for smoking terraces, outdoor entertainment areas, partition walls and showrooms.
The innovative design team at the Australian automatic door company ADIS have developed a new concept in dooroperating systems: the AUTO STACKER. This multi panelled door operating system allows quick, easy and effortlessopening and closing of up to 20 metres of door panels instantly expanding any dining, meeting, exhibition or entertainingspace. When open, the spare panels resemble a compact stacking wall system, maximising available roomspace and providing the flexibility of an adaptable floor space.
But the AUTO STACKER more than just a stacking wall system it is also an automatic sensor activated sliding door.Whilst in the closed position, the leading edge panels can be programmed to act like any regular automatic slidingdoor, opening and closing on approach, yet remaining securely and electronically locked at all other times. TheAUTO STACKER can also be interfaced with existing building security and control systems, ensuring convenientafter hours access and egress if required, without compromising the security of the building.
AUTO STACKER adds unforeseen flexibility and adaptability to an area: the size, layout and outward aspect of thespace are at the flick of a switch with no need to handle bulky, heavy doors or complicated locks.