Eco Friendly Plaques Sydney from Architectural Signs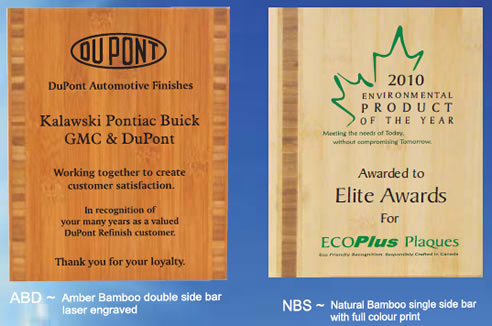 Eco Friendly Plaques
Architectural Signs provide many options for awards including Sustainable Eco-Friendly Plaques and carry a wide variety of options.
From renewable bamboo, to recycled wood pulp and newsprint plaques, our expert staff will help design the Eco Plaque you are looking for.
After 30+ years in the Awards Industry, we are delighted to offer recognition alternatives that will contribute to sustainability.
Plaques are made renewable bamboo, come in 3 different colours with 6 different sizes to choose from.
They are laser engraveable and look very attractive with full colour print on it.
Attached are some EcoPlus options, however please feel free to ask us to design a unique plaque especially for your company.
For further information please contact Millar McCowan at Architectural Signs or visit www.arcsigns.com.au.
Architectural Signs have been providing signage solutions since 1979 including outdoor, reception, braille, awards and vehicle signage.
Architectural Signs has continued to strive to be innovative and customer focused to such an extent that we are now recognised as one of Australia's largest trade engravers.