Timber Look Aluminum Cladding and Facades with DecoWood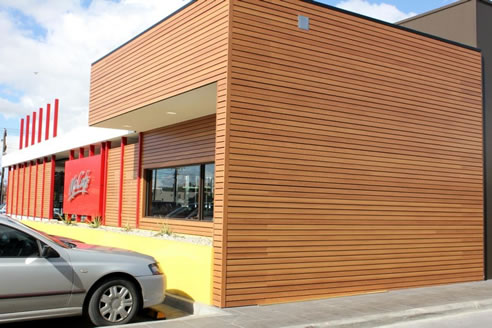 DecoWood™ Cladding and Facades
DecoWood™ has proven to be a beneficial alternative to timber cladding and facades, especially in commercial applications.
DecoWood™ cladding and facades have been used in a number of applications including several McDonald's restaurants in Melbourne.
The advantages of using DecoWood™ cladding instead of timber include:
Easy installation: aluminium is lighter than timber and therefore easier to manoeuvre in the installation process
Low Maintenance: aluminium never requires painting or staining like timber does, saving time and money
Durability: DecoWood™ aluminium is more durable and dimensionally stable than timber meaning no warping, twisting, splitting or rotting like timber. Plus, it won't need to be replaced as often.
DecoWood™ is a powder coated wood grain finish based on photographic images of real timber. It has been tested for its durability in international extreme exposure locations where intense UV radiation, salt spray and industrial pollutants combine to create the worst possible conditions, and complies with all relevant Australian and international standards.
Visit the Decorative Imaging website for more information about DecoWood™ cladding and facades, or call us on 02 4871 2277.
02 9726 7726
Stage 3A, Vertikote Complex, 26 Barry Road, Chipping Norton, NSW, 2170