Cast Bronze Memorial Plaques from Architectural Signs Sydney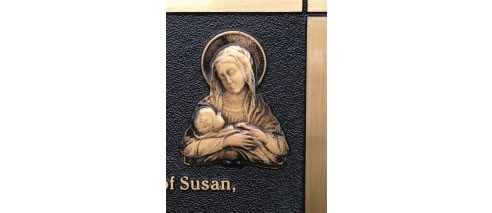 Factors to Consider
Memorial Plaques are common tributes to the deceased and were typically made from sandstone. Sandstone is a soft rock and weathers over time, eroding and erasing the carefully scripted epitaphs on the memorial plaques away to nothing. Memorial plaques made of more resilient materials have replaced sandstone as the memorial plaque fabric of choice. Bronze, granite and construction-grade cast stone, all of which can withstand weather extremes for centuries, are now commonly available.
4 important factors to consider;
Size - Many cemeteries may allow only memorial plaques of a particular dimension.
Colour - For bronze memorial plaques a shade of dark brown is a popular color choice.
However any colour is available on request.
Lettering - Make sure that you order a memorial plaque of sufficient size to accommodate comfortably everything that you want to say.
Delivery - We deliver anywhere in Australia and overseas
For more information on memorial plaques, general cast plaques and other signage and engraving services you can contact Architectural Signs on 9680 2151 or www.arcsigns.com.au
Architectural Signs has continued to strive to be innovative and customer focused to such an extent that we are now recognised as one of Australia's largest trade engravers. We have been providing engraving and signage solutions since 1979 including outdoor, reception, awards, vehicle signs and braille. See video: http://www.spec-net.com.au/press/0412/arc_250412.htm