Greenroof Drainage with VersiDrain 25P from Elmich Australia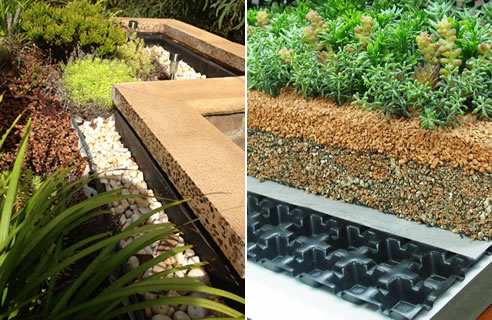 Sydney Residential Greenroof featured on Grand Designs
Sustainable New Build in Forest Lodge, Sydney, is featured on Grand Designs this Thursday at 8.30 on the Lifestyle Channel.
Chris Knierim of Designer Constructions, is passionate about sustainable buildings, so much so he has set about designing and building his own.
Buying a very small, plot of land next to his home Chris designed a sustainable house that maximised the use of every square inch and reduced the energy consumption of the building. Roof solar panels heat underground storage cells which provide heating and hot water for the home.
Rainwater that falls on the site is collected in underground water storage tanks which irrigate beautiful Greenwalls to maximise the space in the small courtyard garden.
All capped off with a super insulating greenroof which, at its core, uses Elmich VersiDrain 25P, the most effective Greenroof drainage cell he could find for the job!
You can catch the show Thursday at 8.30 on the LifeStyle Channel and repeats throughout the week.