Tile and Stone Installation Materials App from Laticrete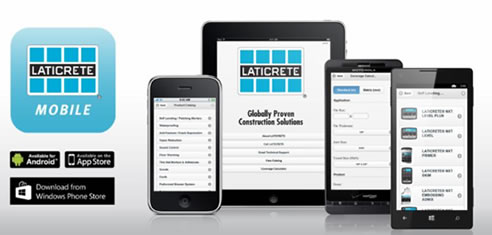 LATICRETE Australia App at your Finger Tips!
The NEW LATICRETE Australia App!
We have updated the LATICRETE Tile and Stone Installation Materials App to include new powerful and useful features based on user feedback. These updates include full information regarding the LATICRETE Australia product line as well as adhesive coverage calculations.
Our product line ranges from underlayments to membranes to adhesives to grouts. From "StainProof" grouts to waterproofing membranes that can be flood tested in as little as 2 hours to innovative sound and crack isolation adhesive to an uncoupling membrane, STRAT_MAT™.
The LATICRETE Australia Product Information App is an industry-first, full-service reference tool. Whether you are a professional contractor, tileshop, distributor, dealer or a do-it-yourselfer, you will find the application to be a welcome addition to your tool kit! Available for iPhone®, iPod Touch®, iPad™, Android™ and Windows phones.
FEATURES
- Product Catalogue: Network-updateable product listing with descriptions, packaging details and direct-links to additional documentation on LATICRETE Australia products.
- Coverage Calculator: Get quick coverage estimates for LATICRETE grouts and adhesives by simply selecting your desired grout and adhesive, tile size and grout joint width in English or Metric units!
- Contact Us: The ability to email our Technical Services Department at your finger tips OR contact us by calling our Call Free number - 1800 331 012!
For more information, click here.