Commercial Carpet Autex Range from Nolan.UDA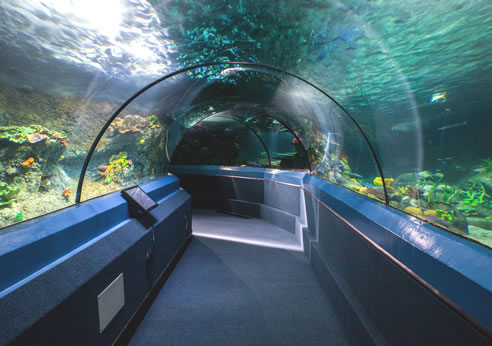 Autex Carpet Range: For when a sea change is needed
Underwater World is one of the leading visitor attractions on Queensland's Sunshine Coast. The new Ocean tunnel holds 2.5 million litres of water and gives thousands of visitors a year an opportunity to see the unique Australian aquatic life up close.
Needless to say that such an important tourist attraction required a carpet range that's durable, aesthetically pleasing and easy to maintain. Nolan.UDA together with Master Kelwin Floors, were able to provide a tough and resilient flooring solution that will maintain its appearance within the high thoroughfare area.
One of the distinctive requirements of the job was to have the carpet partially climb the sides of the wall. The unique construction of the carpet will ensure that this customised space maintains its colour, shape and design as well as bring warmth, softness and comfort to the environment.
Contact your local Nolan.UDA branch for more details if you have a similar project that requires a solution.