Concrete Domes at Brunei Mosque Waterproofed by Radcrete

Crown Prince of Brunei visits Radcon Formula #7 exhibition
SITE DETAILS
COUNTRY: Brunei
SITE: Jame'asr Hassanil Bolkiah Mosque
TREATED AREA: Concrete domes
SIZE: 1,600 square metres
Despite being waterproofed way back in 1991, Radcon Formula #7 is still providing leak free waterproofing to the Sultan of Brunei's mosque. Twenty two years of waterproofing is nothing for Radcon #7 which will continue to keep the mosque dry and leak free for years into the future. This is despite the deluges of the annual wet season in the tropics. In fact unlike other waterproofing materials which respond poorly to constant water, Radcon #7 is the opposite. The constant rain that occurs in the wet season increases the Radcon #7 reaction inside the concrete and actually improves it's waterproofing capabilities.
As proof of Radcon #7's longevity it is now covered with a 100 YEAR WATERTIGHT GUARANTEE.
Approximately 1,600 metre square of the dome areas were waterproofed prior to being covered with the 24 carat gold tiles. The Radcon #7 application gave 27% increased adhesion to the mortar bed applied to the concrete dome.
Radcrete's Brunei representative promoted the product recently at a housing exhibition in the nations' capital. A couple of very interested visitors were HRH Crown Prince of Brunei (next in line to be the Sultan of Brunei) and HRH Prince of Brunei. The photos show them examining the stand at the exhibition.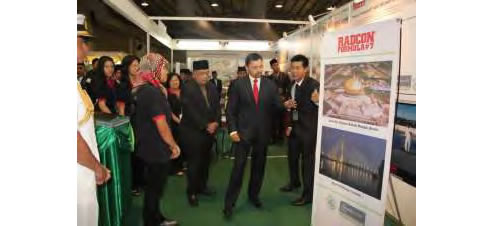 Royal visitors, The Crown Prince and the Crown Prince.