LED Light for Fibreglass Pools Britestream Slim90 from Waterco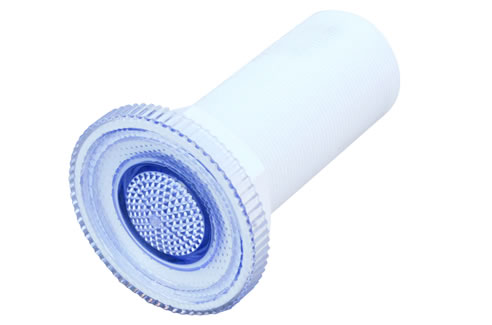 Waterco's new Britestream Slim90
LED light designed with fibreglass pools in mind
Energy efficiency and minimal intrusion key
Specifically designed for easy installation into fibreglass pools and spas, Waterco's new Britestream Slim90 Fibreglass Niche LED has been designed to provide a low profile - not to mention an energy efficient lighting solution.
"This light has been created purposely for fibreglass pools," explains Waterco's Domestic Water Care Product Manager George Flory. "It has been designed to minimise intrusion in the fibreglass shell, and is flush mounted with just a 14mm projection."
The Britestream Slim90 is also energy efficient; it requires only 15 watts of energy to deliver up to 128 lumens of light, plus it lasts 35 times longer than a traditional halogen light.
"That's approximately 15 per cent of the electrical power usage of a standard halogen light. In other words, they use approximately 85% less energy than a halogen light," Flory says.
"And unlike traditional halogen bulbs that emit light and heat in all directions, the Slim90 emanates light in a specific direction. This not only results in substantial energy savings but also allows pool owners to finesse their lighting design.
"The Slim90 LED lights are also great for those hard to light areas of a pool or spa, not to mention their steps."
The Britestream Slim90 Fibreglass Niche LED has a number of standout features including built-in heat management, triple seal connection, and a precision built printed circuit board totally encased in a waterproof housing.
Other benefits of Waterco's Britestream LED lights include:
Greater efficiency, durability and versatility than traditional halogen underwater lights
Flush mounted with a minimal 14mm projection into the pool
Over five times more energy efficient than a halogen light
Longer life span - over 70,000 hours, which is 35 times longer than a halogen light (based on six hours usage per day)
Super bright LEDs capable of delivering 128 lumens (White LED)
180° zonal illumination
Available in white and blue single colours