Natural Timber Floor Finishes from Whittle Waxes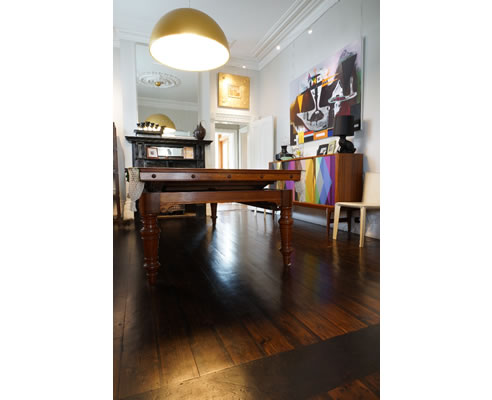 Aardvark Floors chooses Whittle Waxes Products.
After many years in the flooring industry you get to try many different finishes, both good and bad. I have been particularly impressed by all of the Whittle Wax hard wax oils. With the prolific use of exotic timbers these days, it is reassuring for myself as a flooring contractor to be able to recommend a truly environmentally friendly timber finish that is easily repairable, non-yellowing, and non-toxic and at the same time, nurture the timber in order to enhance the appearance and natural beauty. I have no problems recommending to my clients their range of products. I just love it!!
Chris White Aardvark Floors
Whittle Waxes and Treatex products have high coverage rates - up to 30m2 per litre. Hard waxes are micro porous and form a hard protective film that is non-static, water-repellent and allows the timber to breathe, which means climatic changes are accommodated. As there is no water in the product, they do not "grain raise" on application. Whittle Waxes products are available in matt, luster, satin and gloss, as well as a range of pigment based stains.
This beautiful home was done by Aardvark floors was done with Treatex Hardwax Oil luster.
Whittle Waxes finishes are suitable for applying to a diverse range of base materials.
Interior timber applications (floors, stairs, kitchen worktops, tables, furniture) as well as cork, linoleum, terracotta, natural stone and porous concrete. Additionally unglazed tiles can be coated in designated wet areas (bathroom, kitchen and laundry).
Our quality, natural finishes for timbers enhance the grain of the wood and at the same time endow it with long lasting durability. Oiled floors, when properly cared for, will never need aggressive sanding again as can be seen in Europe in century old oiled floors - they just get more beautiful with time.