Porcelain Paver Support with VersiPave from Elmich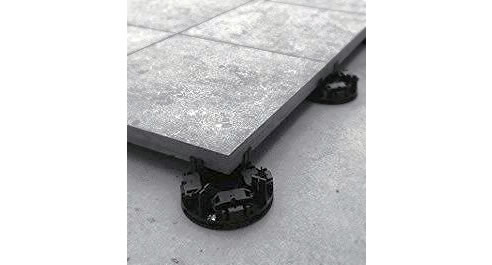 VersiPave and Porcelain Pavers, the perfect paving partnership
Porcelain pavers supported on VersiPave, are ideal for use over waterproof membranes.
These exceptionally strong, 20mm thick 600x600, non-porous pavers are available in a huge range of styles. They require no sealant or maintenance, are slip, stain and scratch resistant, fade proof, and when installed on VersiPave, they require no adhesive or grout, making them easy to install and remove.
Larger, stronger pavers mean fewer VersiPave supports (3 per m2) = Reduced support costs, as low as $10.00 per m2.
So why do Australian Builders and Specifiers prefer Porcelain on VersiPave?
Premium Finish
Eliminate Grates, Grout and Sealant
Eliminate Ponding and Efflorescence
Equal Internal and External Levels, no step downs
Access to the membrane for maintenance
Low Cost and Best value
Low maintenance
Reduced Installation and Lifetime costs
Reduced Load
Adjustable from 24mm - 180mm
Concealed services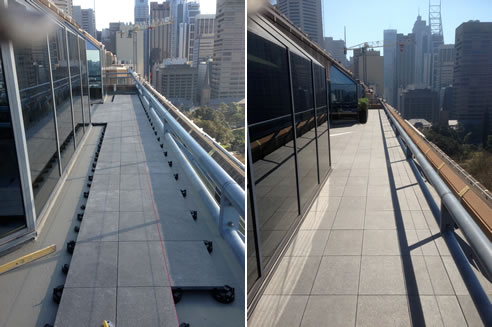 Elisabeth Street - Sydney
This list of recently completed projects gives you an idea of just how much the industry is favouring VersiPave:
- Harold Park , Glebe - NSW (Mirvac)
- Top Ryde City Living- Crown Apartments - NSW (Crown)
- Punchbowl - Revolution Apartments - NSW (Deicorp)
- UTS Dr Chau Chak and Thomas Street - NSW (Lend Lease)
- Aged Care Facilities - including Beecroft,The Poplars, Gracewood, Burger - NSW
- Exxon Head Office - VIC (Schiavello)
- Kraft Head Office - VIC (Context)
- Monash University - VIC (ProBuild)
- Sheraton Hotel - QLD (Hutchinsons)
- Festival Towers - QLD (Built)
This is just a sample and there are many more to come....
Still reading? If you have any questions, give us a call....
* Confirm with porcelain paver supplier the minimum support requirement for their product. Elmich accepts no responsibility for pavers.