Pegboards and Accessories from SI Retail

Shopfitting Term: What is a pegboard?
Pegboard is a brand name, which is used to describe perforated storage boards. Perforated storage boards are pre-drilled with evenly spaced holes. The holes are used to accept pegs or hooks to support various items, such as merchandise in a retail store and even tools in a workshop.
A Pegboard sheet is usually up to 5mm thick; with 3mm holes perforated 25mm apart. The finishes can vary depending on the retailer's requirements; wood, cardboard, metal or laminated with different colours.
Pegboard is an innovative and low cost way to display merchandise on previously unused wall space in retail. Pegboards are most often used to display small to medium items.
Pegboard is perfect for factories, offices, retail spaces, workshops, garages, kitchens, tradeshows and more.
Pegboard is made out of a thick sheet in comparison to a metal board so it requires display hooks with a longer pin length.
Metal board is another type of perforated storage board, which is usually thinner and holds different type of display hooks. Though, you can purchase pegboard adaptors for your metal board hooks so they fit peg and volcano boards.
Volcano Board is again another perforated storage board product that is usually made of metal and the holes are concaved. They fit similar hooks than the pegboard.
Slotwall is a different type of board, which does not have holes but instead slats. You can purchase display hooks especially designed for slotwalls but all pegboard and volcano board hooks will fit slotwalls. Only metal boards require a different display hook design.
In summary, Pegboard hooks are the most versatile display hooks on the market:
Pegboard hooks fit Pegboard, Volcano board and Slotwall and they will also fit metal boards with a pegboard adaptor.
Metal Board hooks fit metal boards
Slotwall hooks fit Slotwalls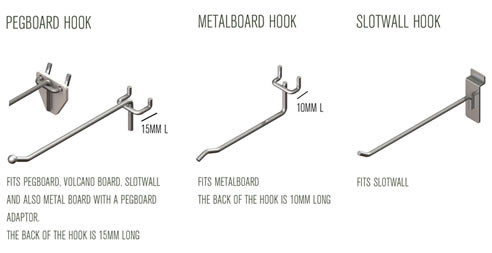 SI Retail offers a wide range of pegboard / Volcano display hook options, although we do not sell the pegboard itself:
Pegboard single prong display hooks for a simple and economic display hook
Pegboard loop display hooks for added stability to display heavy products
Pegboard flipscan single prong display hooks with a FREE label holder to price your merchandise
Pegboard flipscan Loop display hooks with a FREE label holder to price your merchandise
You can purchase display hooks for Pegboard, Slotwall, Metal board, but also Corrugated wall, Grid wire and Cross bar hooks easily on SI Retail's new website at www.sishop.com.au