Light Curtain Security Gates from Magnetic Automation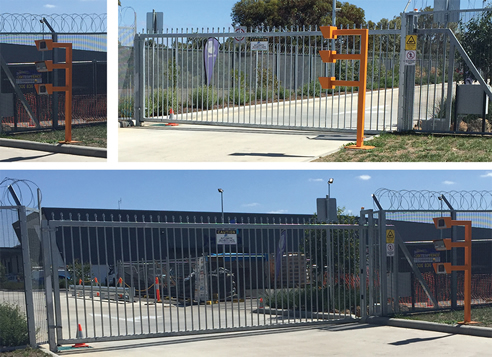 Optimised safety and security measures
Magnetic Automation recently installed light curtains on an MCG Cantilever Gate at a high-end security facility. The site required additional safety measures to be installed at the gate entrance due to the varying types of vehicles accessing this entrance.
Due to the diversity of sizes and shapes of vehicles, on the odd occasion, particular vehicles were not being detected by the existing PE beams and underground loops. The solution was to install light curtains which definitively detect anything going through the gate entrance/exit.
The light curtains works in conjunction with the existing PE Beams and ground loops to safeguard against accidental closing of the sliding gates. The light curtains installed on site contains about 150 PE beams which criss-cross through the opening, detecting everything that goes through the gates.
Operating through 32 channels and an active area of 1400mm with criss-crossing beams - no trucks or any types of vehicles can go through without being detected.
A further feature of this installation was a customised 3-tier card reader bollard which was fully integrated with the site's access security system.
For more information regarding our PE beams, light curtains, card reader bollards or any other Magnetic Automation products, please contact our head office on 1300 364 864 or email.