Clean Burning XL Series Bioethanol Burners from EcoSmart Fire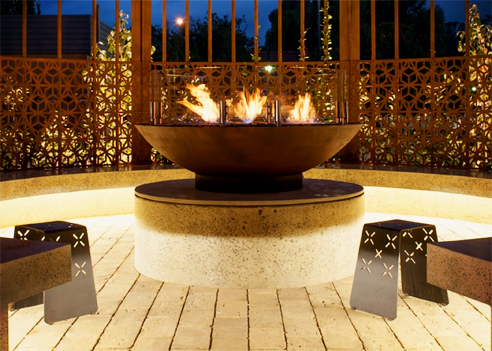 Junction Moama, a restaurant and dining space located on South Australia's Murray River, prides itself on using local produce to create superb food, wine, cocktails and craft beer, and providing a stylish venue for friends and family to gather to enjoy these specialties.
In doing so, it has created a sophisticated atmosphere that can only be further complemented by the addition of two EcoSmart fire features throughout the space.
"The EcoSmart burners provide the warm and ambient environment that hospitality projects are always looking to have," says Victor Cheung from Altis Architecture, who was commissioned to re-design Junction Moama. "One fire is located in the fire pit within the birdcage terrace, and the other forms part of the water and fire feature in the garden area.
"These two areas have got a totally different feel to them, so we were working with two briefs and two design ideas."
This two-pronged approach to re-designing Junction Moama was extremely appropriate for the multi-purpose venue, which can be split to cater for several different kinds of functions, small or large.
"The whole area is able to be opened up or broken down do to specific customer or function needs," explains Victor.
"The design brief for the installation at the birdcage was to create a fire pit within the giant birdcage for patrons to gather around, especially during the winter period. It was designed to create a focal point at the southern part of the Moama bowling club. The fire pit and the hanging chandelier were placed at the centre of the birdcage to provide an ambient environment for the patrons to enjoy.