Harbour Drive Streetscape Cobblestone Upgrade with LATICRETE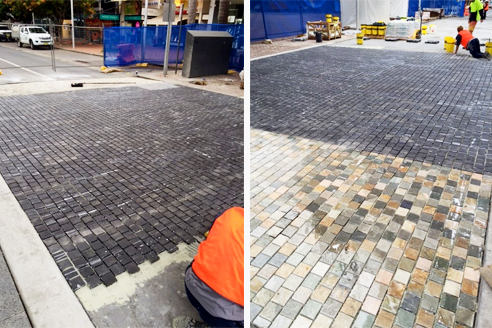 The Harbour Drive Streetscape project is currently underway and consists of granite cobblestone being installed over 400m2. Joe Tabone, LATICRETE NSW Technical Sales Rep, provided an update of the installation.
"We decided to high pressure clean and mechanically broom to give a great clean solid surface to adhere to. Screed coverage on average is: 1 x 20kg 226 mixed with 1.7ltrs of 3701 covers 1m2 at 10mm thick. We went with a 335 slurry bond coat of :1 x 20kg to 5.5ltrs of clean water - this is broomed on leaving an even 2-3mm coating over the surface. Followed by mixing 3 x 20kg bags of 226 mixed with 5ltrs of 3701 giving us the perfect mix which it's currently 19* - 20* temperature. Everyone from EPA officer, Work Cover Officer, Council Supervisor and workers are all happy with the LATICRETE support."
A range of LATICRETE materials have been used throughout the installation including: