Shangri-La Blinds: The Designer's Choice from Blinds By Peter Meyer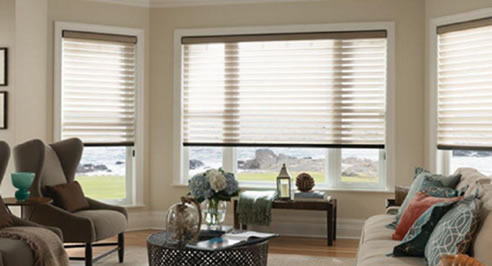 Shangri-La Blinds by Peter Meyer can add a stylish, modern look to any contemporary home. This fantastic line of sheer and opaque blinds come in a range of fashionable pastel colours that adds a sheet of protection to windows while letting natural light in and brighten up the space.
Shangri-La Sheer Window Shadings' translucent sheer fabric vanes can be positioned fully open, fully closed or anywhere in between, enabling the homeowner to have privacy control. Available up to 3000mm wide, these blinds can be fixed with translucent or room darkening blades so the user can achieve any preferred outcome.
What Are Shangri-La Blinds' Specifications?
1. Translucent vs Moonlight:
a. 3000mm wide x 3350mm drop - Translucent (sheer)
b. 3000mm wide x 3000mm drop - Moonlight (opaque)
c. A translucent or opaque [ Moonlight ] fabric vane suspended between two layers of sheer fabric - offered in a range of 12 subtle colours [ 8 translucent + 4 room darkening ]
2. Operation:
a. Smooth continuous chain operation allows the fabric vane to be angled open to filter light, tilted closed for privacy or rolled away into it's own neat headbox when not required.
b. Shangri-La can also be motorised and as always we use Somfy to automate out blinds!
3. Thermal Properties:
a. UV blockage 99% when closed, approximately 80% when open.