Automated Taps for Convenience & Hygiene from TILO Tapware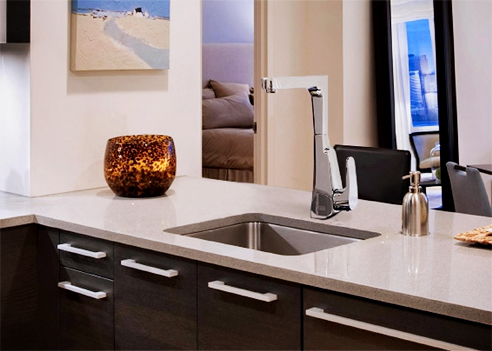 Whether you own a home, restaurant or retail store; functionality and hygiene are a necessity. The common tap or 'faucet' provides a place for you and your guests to clean their hands and complete other kitchen or bathroom duties. The big decision when outfitting these premises is whether to install manually operated taps or automated taps. Manually operated taps generally come at a lower initial cost and are reasonably reliable due to their simplicity and minimal number of working parts as opposed to say infrared sensor taps which require a power source, sensor and a solenoid operated valve but there may be some other deciding factors one should consider other than economics. For instance convenience, ergonomics and hygiene being the main key factors.
Differences
Manually operated taps as the name suggest are just that. Manually operated and determined by the user for the adjustment of the water temperature, flow volume and length of time the user requires by the manipulation of a lever, knob or handle. With automated taps the temperature and volume of flow is pre-set so this eliminates the operator's control over this. Electronic sensor taps use an infrared sensor (transmitter) that sends an infrared signal and a receiver to detect the deflection when the users hand passes in front of the transmitted signal. The receiver sends the signal transmitting an electrical pulse that triggers a solenoid that opens the valve for the water to flow through. There is usually a timer that allows the water to run for a specified period before shutting off.
The obvious differences between manual and automated taps from a hygiene point of view is that auto' taps do not require the user to actually contact the tap but by simply placing ones hands within the sensors range triggers the solenoid actuated valve. This sensor is usually located under the spout area. The distance is adjusted close enough so that the sensor is not accidentally triggered by other reflective objects or passing patrons. With manual operated faucets the user has to physically touch the lever, handles or knobs in order to operate it.