Seven Benefits of Retractable Awnings by Undercover Blinds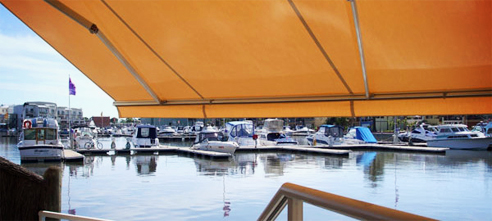 7 Things You Probably Don't Know About Retractable Awnings
Most Australian home-owners understand the value of a high-quality retractable awning. You probably know that patio and window awnings are excellent for protecting you from harsh summers and rainy Melbourne winters. You probably also realise that retractable awnings can be a beautiful addition to the design of your home, complementing both indoor and outdoor decor.
So, what else is there to know? At Undercover Blinds, our team has over 100 years combined experience in the industry and we are experts at creating custom-made retractable awnings. As such, we have a few secrets up our sleeves. So, without further ado, here are the top 7 things that you probably didn't know about retractable awnings for windows, patios and balconies.
They can reduce heat inside your home too.
Retractable awnings prevent solar radiation from penetrating your glass windows and doors. This decreases heat inside your home by up to 70% and can even reduce your air conditioning use by half. Retractable awnings are also excellent UV blockers, getting rid of 98% of these harmful little buggers and protecting you and your family from skin cancers and nasty burns.
They can make a great home office.
Retractable awnings are (of course) wonderful for outdoor entertaining. But there are all kinds of creative uses to consider for your new-found living space. For those who work from home, relocating your home office to an outdoor setting is a great one to think about. You will be amazed by how much more productive and relaxed you feel. In fact, studies have shown clear benefits of contact with nature while working including reduced stress and fewer health complaints.
They can be fully automated to suit your lifestyle.
Most people are aware of the motorized awnings on the market that can be extended and retracted with the push of a button. But did you know that retractable awnings can also be fitted with automatic sensors? Awnings can be retracted or extended based on motion sensors, wind sensors, sun sensors or timers. They can even be connected to a c-bus system - a luxury smart-home product which allows you to control your home's lighting, sound system, temperature and more. Simply program your ideal environment and relax!