Magic Ball Floating Pool Light Water Feature from Waterco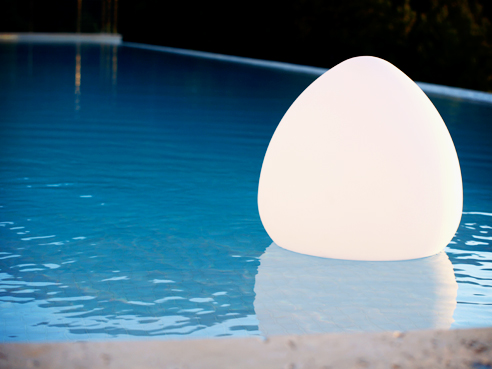 Waterco's Magic Ball Floating Pool Light sets the mood with wireless control.
Eco-friendly floating light instantly transforms
a swimming pool into a multi-coloured water feature.
Waterproof, rechargeable, remote controlled and multi-coloured - Waterco's Magic Ball Floating Pool Light is an eco-friendly lighting feature that creates the perfect ambiance for poolside entertaining. From a gently flickering candle effect to a dynamic strobe feature, you can control the look with a simple flick of a switch.
Free from cumbersome wires and powered by a low energy consumption LED, the portable Magic Ball emits a soft gentle glow that looks spectacular when floating on the pool's surface, placed on the pool deck, or positioned in the garden as a sculptural feature.
"Many pool owners don't use their pool at night, however with ambient lighting, you can now bring your garden and pool surrounds to life instead of them disappearing into the darkness," says Waterco's domestic water care product manager George Flory.
Powered by a Lithium-Ion battery, the Magic Ball has a battery life ranging from 8 hours (high intensity), 12 hours (average intensity) to 24 hours (low intensity).
Standout features of Waterco's Magic Ball Floating Pool Light include:
Eco-friendly construction.
100% waterproof.
Rechargeable.
Shock resistant.
Up to 10 hours' use.
Remote controlled.
7 rainbow colours.
1-year warranty.