Modern Vinyl Cladding from Austech External Building Products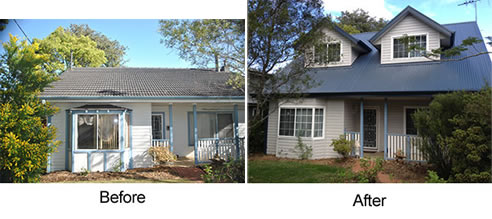 Improving the Exterior of Your Home
Making a couple of cost effective cosmetic changes to the exterior of your home you can bring your home to life again. Many home owners will renovate the kitchen, bathroom or even re-cover the flooring before they think to start on the exterior of the home. The exterior of the home tends to be overlooked due to the assumed expense and work involved but, this does not need to be.
Nothing is more pleasing than driving home to a neat and tidy home with great curb appeal. If you are planning on selling your home, it is often the first impression that captures potential buyer.
Add curb appeal to your home quickly by renewing your outer walls with modern Vinyl Cladding. So many colours to choose from you can take the most ordinary home and achieve an enormous improvement. Vinyl Cladding will not only transform your homes aging exterior it will also add extra protection from the outside elements, providing significant thermal advantage.
Most Vinyl Cladding can be installed over any existing walls including brick and cement. Vinyl Cladding will save you the cost of removing it and the cost of getting rid of the old material. Plus it can save you so much time.
Best of all once it has been installed, it requires little maintenance. Just a hose down when it gets a little dirty. No painting required ever. No fading or cracking from the hot Australian elements.
Using a professional to install is recommended, but if you are handy, you may be able to install the vinyl cladding yourself and save on installation cost. I nstallation manuals and videos are available to help with any questions or problems you may have.
Austech External Building Products been Marketing Vinyl Cladding for over 30 years, if you would like to talk to one of our experts, please make contact, and we will help you discover if Vinyl Cladding is the right choice for your home.