Hyflo Self Closing Flood Barriers for Community Protection from Flooding Solutions Advisory Group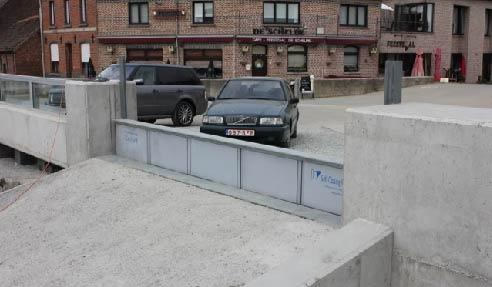 Flooding Solutions is the exclusive Australian distributor of Hyflo SCFB (Self Closing Flood Barriers) for the building and construction industry, as well as state and local government agencies across Australia. The New South Wales-based company remains the number one choice for innovative flood defence systems, ensuring the safety of the community.
Hyflo SCFB (Self Closing Flood Barriers)
Dubbed as the world's most successful solution against floods, Hyflo Self Closing Flood Barriers SCFB are precision-designed to protect people and property from high water levels. The flood defence systems are based on sophisticated Dutch technology that harnesses the power of rising floodwaters to deploy the barriers.
Hyflo SCFB is comprised of an enclosed basin, which houses the floating barrier wall. When floodwaters rise to within 10cm below flood level, the basin starts to fill up through an inlet pipe from the adjacent service pit. The flood wall continues to float and rise until the angled support block locks the barrier into position once the basin is totally filled. The resulting assembly is watertight, blocking out floodwaters from inundating property.
In action, Hyflo SCFB swiftly provides flood protection without human intervention whatsoever. Hence, people can allot more time in preparation and taking other flood protective measures, especially during flash floods. Although most Australian SCFB's have been installed on individual properties, they can be built on longer locations to ensure the safety of inhabited, industrial or other strategic areas against inland waterway floods caused by heavy rains, gales or rapid melting snow.