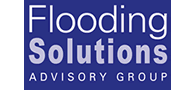 Company Profile
As most of Australia's population resides on coastal floodplains, there are valid concerns about the growing flood threat to communities and economies. The Flooding Solutions Advisory Group was established to provide innovative answers through new technologies to better prepare buildings and property to resist the impact of flooding.

The Flood Solutions Advisory Group is actively involved across Australia with a number of State and Local Government Agencies as well as commercial and residential clients. We have provided information to the Insurance Council of Australia at seminars on limiting the impact of flooding on property. In addition, we act as flood mitigation planning consultants, providing assessment of issues that may, or indeed have, placed a project at risk of flooding due to storm event.

We are proud to represent the world's finest producers of flood mitigation devices. Click on the Products button above for more information on these outstanding solutions, and several others that we design and manufacture in Australia.

Flooding Solutions Advisory Group
02 4474 4711
14 Page Street, Moruya, NSW, 2537
* If you would like to update the text on your profile page, please contact Spec-Net.