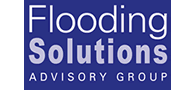 Company Profile
Flooding Solutions Advisory Group is a leading Australian supplier of flood devices for property protection. We design, manufacture and install one of the most comprehensive ranges of flood protection products available in the world today. Our clients include Australia's largest developers and builders, including private sector titans such as the Scentre Group, Lend Lease and Stockland as well as state and local government agencies.

Seamless integration of flood product into building fabric is provided by our in-house design facility. We work closely with our client's architectural and engineering design teams from early planning stage right through to project completion, ensuring optimal flood protection based on building location, flooding history and requirements specified by Councils and Consent Authorities.

Flooding Solutions is committed to supporting the Australian manufacturing industry. Most of our flood protection products are produced from local steel or aluminium and manufactured in factories in New South Wales and Queensland. Close collaboration between our design and fabrication teams produce high quality flood protection devices tailored to the specific needs of our clients.
Flooding Solutions Advisory Group
02 9904 7099
Suite 203/283 Alfred St, North Sydney, NSW, 2060
* If you would like to update the text on your profile page, please contact Spec-Net.