Outdoor Blind Fabric in Colorbond Colours from Nolan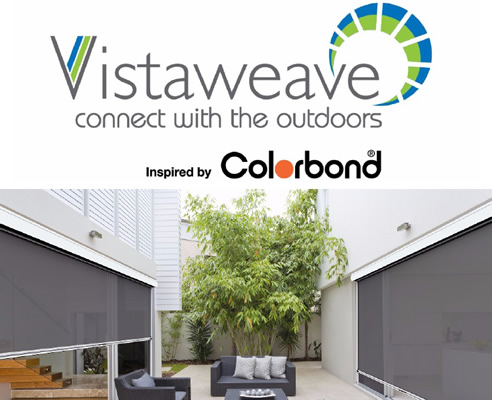 The colours of Australia
Of all the elements of design, colour is the most powerful and personal. Colours are, by nature, an extension of your personality. Subtle. Bold. Cool. Warm. An expression of one's self. Subconsciously, colour can alter our perceptions, moods and emotions. Hues and tints enhance our surroundings - harmonising or contrasting - to delight our sense. So when it comes to designing your outdoor area, choosing colour can be a very exciting prospect and it's something that you want to get right.
The Vistaweave colour palette was developed in collaboration with Colorbond. It features all the contemporary colour trends along with the traditional favourites to create the most impressive collection of outdoor mesh seen in Australia. This colour range has no equal and provides endless design possibilities, only limited by the imagination.
INSPIRATIONAL. From our mountains to the outback, from creek beds to beaches, Colorbond® captures the light and energy that makes Australia's colours so unique. Each colour has been designed with you in mind, and the design trends that influence your style. Each inspired by Australia's own magnificent backyard, and designed for the Australian outdoor area and the array of land and city scapes in which they proudly stand.