Glass Landscaping Mulch from Schneppa Glass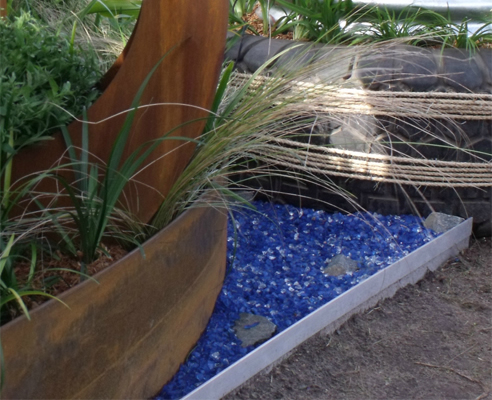 Schneppa Glass offers its customers Glass Landscaping Mulch. The use of Schneppa Glass™ as a permanent glass landscaping mulch has so many wonderful benefits.
The coloured glass looks absolutely amazing when the Sun hits it! Imagine admiring your garden on a bright Summers day and seeing the tumbled glass pieces gently glisten under the rays beaming down from the sky above. Compare this to the look of plain soil or wooden based mulch that doesn't stay looking fresh and new for very long. You'll be so pleased that you decided to invest in a long lasting and durable solution like Schneppa Glass™ Quality Recycled Crushed Glass for many years to come.
Whether used in a garden bed, as pot plant mulch or even in a dry river bed, the drainage qualities of our crushed glass are excellent. The coloured glass is also a very effective aggregate to use in applications like decorative patterns and landscaping features - a wonderful alternative to coloured pebbles.
By nature, glass is also more resistant to burning than wood - another great advantage.