New Timber-Look Aluminium Colours from DECO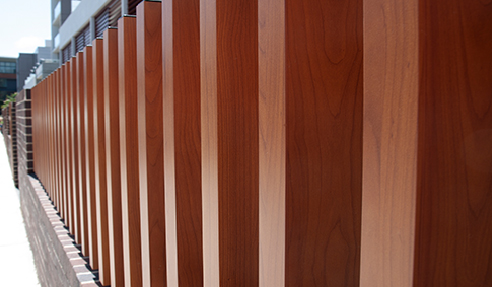 New Colours Added to DecoWood Colour Series
DECO, the producers of decorative powder coated aluminium finish DecoWood, have introduced six new woodgrain colours to the leading timber-look finish's colour range. The new colours bring the DecoWood Colour Series to a total of 30 different woodgrains for use across a variety of aluminium building products and profiles, replicating natural timber species from Australia and across the world.
Ranging from light to dark, the new woodgrain finishes have been developed to provide architects, specifiers and design professionals alike more inspiration and choice in the ever-changing design landscape.
Two new colours - Maple and African Blackwood - have been added to the Exotic Timber Species collection. Featuring a light pink hue, Maple offers a soft timber finish while the African Blackwood is inspired from the native African species and offers a darker timber with a lighter grain representing the timber's pale-yellow sapwood.
Four new woodgrain colours have been selected for the Contemporary Timber Species range including Smoked Ash, European Walnut, Driftwood and Dark Mocha. Smoked Ash and Driftwood offer greyish timber tones, while the European Walnut offers a pale brown timber with the species-typical irregular walnut grain. Dark Mocha reflects a deep brunette or 'mocha' colour with wide grains for a modern, dark stained timber finish.
The ongoing development of new colours - as well as the ability to colour match almost any timber species - reflects DECO's commitment to providing innovative and relevant solutions for the design industry.
View the new colours and the full DecoWood Colour Series at www.deco.net.au to order your free 2019 catalogue and colour samples.