DecoBatten 'Click & Snap' Two-Piece Batten System from DECO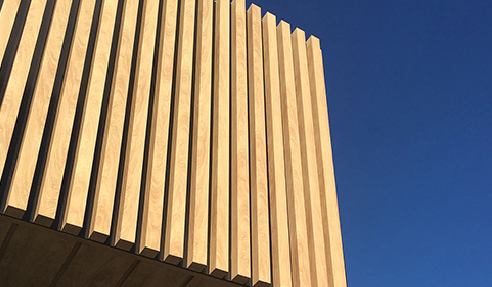 DecoBatten Launch New 'Click & Snap' Two-piece Batten System
Plus Two New Batten Profile Designs
DecoBatten has released its new and improved 'Click & Snap' architectural two-piece batten system. The enhanced system also offers two new creative batten profiles as well as a concealed base for a clean and seamless appearance.
The new 'Click & Snap' system has been expertly designed to allow for the concealed batten base to be fixed directly to any solid surface, wall or ceiling, removing the need for unsightly supporting frames or mounts as well as saving time and money during installation. The batten cover is simply and easily clicked into place over the batten base once it has been fixed to the surface.
A new 'Secure Screw' feature has also been developed for high-stress situations, allowing the batten to be mechanically fixed using the reinforced screw bearing surface, which ensures the batten doesn't bend when drilling or screwing additional fixings for additional security.
Designed with flexibility and easy installation in mind, the two-part aluminium battens come in long, 6.5 metre lengths, with a standard 50 mm base and a choice of five different aluminium batten covers, including two new batten cover profile designs - the Angle and the Radius.
The 50 x 80 mm 'Angle' batten cover has a sharp 60-degree angled edge to create a jagged zig-zag appearance when multiple battens are installed, or two battens can be installed back-to-back for a unique triangular pattern. The 50 x 80mm 'Radius' batten cover offers a rounded dome design for soft, contemporary curved lines. A traditional 50 x 50 mm 'Square' batten cover and two larger 'Rectangular' batten covers - 50 x 150 mm and 50 x 100mm – complete the range.
As with all DecoBatten profiles, the batten covers come finished in a choice of DecoWood colour, the premium timber-look aluminium finish for a realistic and natural looking timber batten (concealed bases can be left unfinished depending on the application, saving on additional finishing costs). Select from the DecoWood natural 'textured' finish for external applications or DecoWood smooth 'gloss' finish for a polished timber appearance for internal designs. Alternatively, opt for DECO's range of plain colour super durable powder coating.
Made from 100% aluminium, all DecoBatten products offer a safe and non-combustible option for your internal and external cladding, façades, feature walls, screens or ceilings, and complies with Australian Standards AS1530.1 and AS1530.3.
For more information on DecoBatten's new two-piece batten system visit www.deco.net.au.