XL50 Custom Pleated Blinds from Blinds by Peter Meyer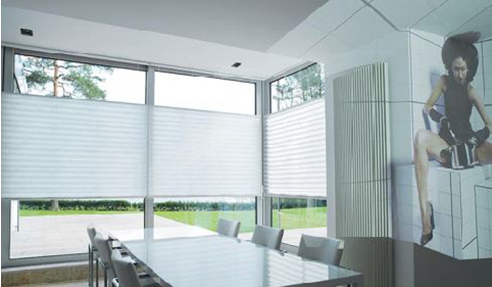 Blinds by Peter Meyer's XL50 Custom Pleated Blind is designed for optimum interior protection and privacy with its luxurious, dainty stack height and compelling architectural lines. Its high-functionality combined with its visual elegance brings to life a wide range of interior decorating possibilities and solutions.
The clean and elegant appearance of the XL50 is attributed to its minimal hardware and a large collection of designer fabrics and colours plus aluminium head and bottom rails.
Blinds by Peter Meyer offers an exclusive range of fabrics and colours such as Blockout, Sunscreen, Translucent, Sheer, as well as contemporary European Jacquards, printed designs, and pearlised and silver backed fabrics.
The XL50 Custom Pleated Blinds have long been a favourite fashion blind across the design industry, not just for its aesthetics, but also for its lasting benefits. Incorporating a unique 'Constant Pleat' system, the XL50 does not droop ensuring a longer lifetime value. The large surface of the XL50 makes it thermally efficient, particularly the pearlised and silver backed ranges.
Renowned designers and major architects recognise this pleated blind for its ability to extend over 4 metres in one piece, great for those with large glass expanses. Fabrics can also be overlapped and joined based on personal preference or project requirements.
For maximum comfort and reliability, Blinds by Peter Meyer incorporates the finest cutting-edge technology from Somfy Motorisation for their range of pleated blinds. Somfy's collection of highly functional controllers and switches allow a user to conveniently control their XL50 blinds through sensors and timers. The smooth, quiet, and sophisticated controlled movement of a Somfy motor fits the elegance of this pleated blind perfectly.
With the highest grades of materials plus a renowned level of service, backed by 5 years warranty, Blinds by Peter Meyer guarantees excellent fashion blinds for residential and commercial properties across Australia.
For more information about the XL50 Custom Pleated Blinds, contact Blinds by Peter Meyer or visit www.petermeyerblinds.com.au today.