Why Consider Moving Panel Blinds from Blinds by Peter Meyer?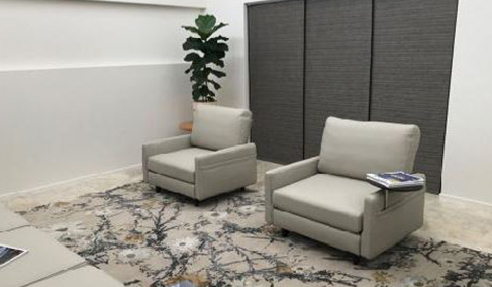 Moving Panel Blinds have been a consistent interior design trend across Australia. The versatility and functionality compliment their stylish and elegant appearance, perfectly suited for most architectural styles and or window-fashions.
Blinds by Peter Meyer is the leading supplier of moving panel blinds. As a quality-endorsed company, its development team anchored the moving panel blinds exclusively with the latest cutting-edge technology, Manuglide®.
System Features
The multi-functional Manuglide® moving panel system is built with a PVC gliding profile, which yields minimal running noise with no visible light between the panel and rail. The Manuglide® also allows its users to slide the back panel via a simple magnet, enabling little-to-no upkeep for a longer lifetime value.
Moving Panel Blind Specifications
For maximum flexibility, Blinds by Peter Meyer offers panel tracks in 3, 4, and 5, with track depths of 61mm, 75mm, and 90mm respectively. The moving panel blinds can be installed in different blind stack positions (left stack, right stack, or centre opening) with a choice of cord draw or flick stick, fixed upon request. Available in white, silver or grey, anodised, and black track colours, the Manuglide® system brings limitless design possibilities and decor solutions.
Fabrics and Weaves
The moving panel blinds from Blinds by Peter Meyer are customised with preferred fabrics and weaves from their world-class Signature Collection V2.0 or Basics V2.0 ranges (Plain + Screen Fabrics, Textured Fabrics, and Natural Weaves).
The Signature Collection V3.0 boasts a large premier range of exclusive fabrics and excellent textures. It is consistently expanding as they continue sourcing from the latest material and colour ideas around the world.
Meanwhile, Blinds by Peter Meyer's Basics Range V2.0 features cost-saving yet stunning fabrics and textures. Basics incorporates smaller but varied and light fabric ranges at an affordable price.
For more information about moving panel blinds from Blinds by Peter Meyer, contact them or visit www.petermeyerblinds.com.au today.