Are Acrylic Splashbacks Heat Resistant for Cooktops by ISPS Innovations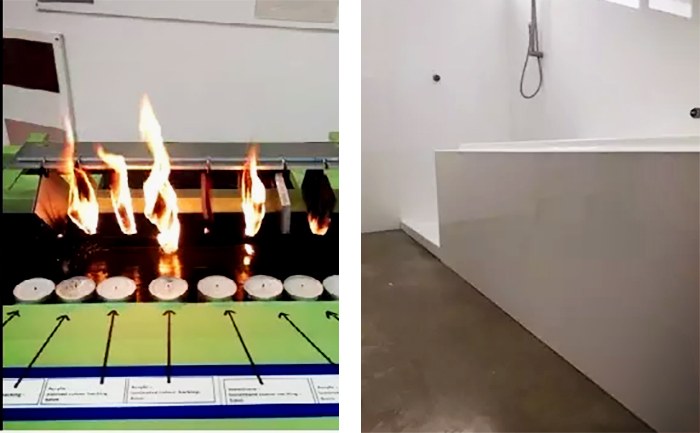 Are acrylic splashbacks heat resistant & how do you clean polymer acrylic splashbacks?
There is a range of polymer splashbacks in the market place which cover the same presence for the look of glass, but perform differently when it comes to;
the heat rating;
saftey;
ease of installation; and
longevity in performance.
Acrylic splashbacks serve a great purpose for decorative luxury high gloss finishes for domestic and commercial environments in laundries, kitchens (not behind direct heat source), and bathrooms. ISPS are the first to provide a polymer splashback called Bonethane High Heat Polymer that simply serves a higher heat application and is self extinguishing in the event of ignition.
Acrylic splashbacks begin to buckle and change form when direct continous heat is at aproixmatley 90°C in close proximaty, and will become lava at aproximatkey 150 to 160°C. A demonstration of Bonethane's heat capacity can be seen in this video. Bonethane is 5th in the line up (from the left, red sample) and is lit on fire by a candle along with acrylic DIY splashbacks in the market place and other metal composite panels. You will note Bonethane self extinguishes whilst the Acrylic Splashbacks burn with fury and high flame velocity.

You will also note that Bonethane does not catch on fire from the intense flames surrounding either side of the red Bonethane sample, yet the coloured acrylic samples reach high flames and dripping lava.
If considering budget, ISPS Innovations offer many splashback alternatives to provide a seamless splashback finish that is safe and elegant in appearance. ISPS Innovations offer a range of Acrylic Splashbacks (PMMA), High Heat Polymer Splashbacks (Bonethane), and Toughened Glass Splashbacks for your domestic or commercial projects in any solid colour or as a printed splashback.
Our coloured and printed splashbacks are used in kitchens, laundries, and bathrooms. ISPS Innovations provide a protective film over the backs of our printed polymer range to prevent silicone bleeding and tape bleeding impressions.
At ISPS its not about just printing or slapping some paint on a substrate, the products we manufacture must last and perform with the environments elements for the commercial and DIY market. ISPS provide our well known coloured and printed toughened glass and printed acrylic splashbacks Australia wide.

Bonethane and IPA Acrylic products were familar to the Bunnings chains for almost a decade and a regular on Better Homes and Gardens, The Renovator, plus have been around the Block for our colour variety, ease of cutting, and heat rating.
ISPS Innovations now supply our total range direct to Architects, Designers, Builders, and DIY Renovators, custom coloured and optional cut to size on our total range of splashbacks, benchtops, kicthens and doors. ISPS Innovations deliver our total range of Australian Made polymer and glass splashbacks Australia wide and we are licensed by Australian Made.
Splashback Options for Gas Cooktops, Induction Cooktops, and Electric Cooktops
Induction and ceramic cooktops: Use Bonethane polymer splashback, toughened glass, tiles, or stainless steel.
Gas Burners and cooktops: Use toughened glass insert, tiles, or stainless steel for behind gas burners.
Free standing Gas Burners with metal plate behind hob: Use toughened glass, Bonethane high heat polymer, tiles, or stainess steel.
Larger Kitchens with gas burners, wanting a seamless look? Use toughened glass the length of the wall where gas cooktop rests or toughened glass insert behind gas burner and IPA Acrylic can be colour toned to glass to provide a uniformed finish for the balance of the surrounding area, saving you money and keeping up your glass appearance.
NB: when placing any polymer behind a gas burner and placing a stainless steel sheet in-front of the polymer, PLEASE NOTE: the metal substrates will work as a conductor of heat, it will not protect the polymer substrate behind the cooktop! There are some foolish companies out to make a quick buck and will not advise unsuspecting consumers of this.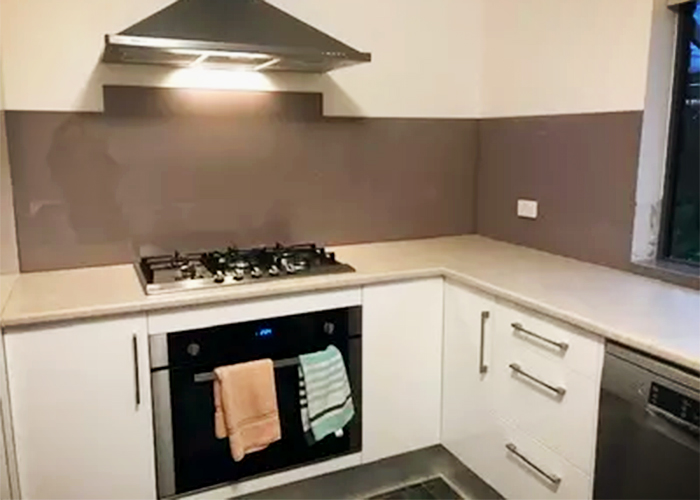 How do you clean Acrylic Splashbacks & Bonethane Polymer Splashbacks?
Acrylic splashbacks and Bonethane polymer splashbacks are a treat to clean. Simply use warm soapy water, rinse residue, and wipe with a clean hot damp cloth. Both IPA Acrylic Splashbacks and Bonethane Splashbacks are designed to air dry and shine.
IPA acrylic splashbacks work wonders in bathrooms, laundries, and kitchens, no mould and streak free when using our simple and effective cleaning methods and tips.
For more information on our total range of our AUSTRALIAN MADE Acrylic Splashbacks, Bonethane High Heat Polymer Splashbacks, Glass, Benchtops, Kitchen, Doors and Resurfacing, call ISPS Innovations today! At ISPS Innovations we got you covered. Supplying custom coloured and sized Acrylic Splashbacks, Wall Panels, Printed Splashbacks, Doors and Benchtops; Australia wide to over 352 locations.