Tilt & Turn Window Advantages by Paarhammer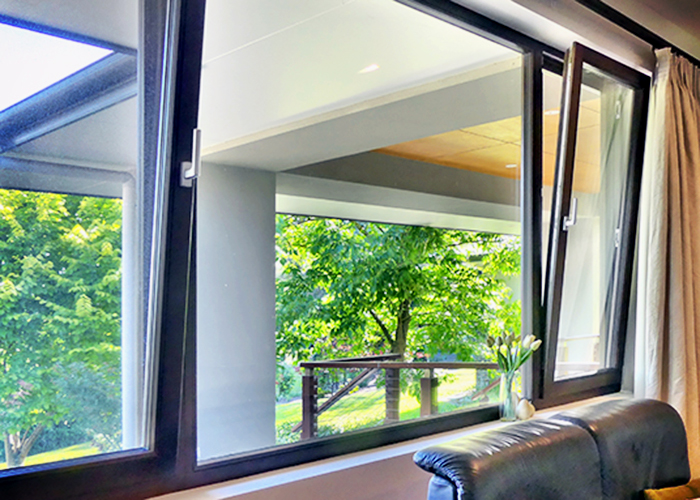 Turn your four walls into a home with noticeably high room comfort. Custom made tilt & turn windows by Paarhammer feature several locking points around the window and, together with rebated framing and compression seals, provide high energy efficiency, sound protection, and security.
While outward opening windows - whether awning or side opening - have issues with space when combined with external roller shutters, they are also difficult to clean from the inside. In this situation flyscreens must be mounted on the inside, and also hinder the cleaning process. Sliding and double-hung windows are notoriously draughty even when closed, and therefore suffer from bad energy efficiency and sound protection. Again, they are difficult to clean from the inside.
In comparison, tilt & turn windows offer two opening positions:
Tilt in at the top like a hopper window. In this tilted position your tilt & turn window will allow controlled airflow and is child-safe (extra lock available) with an opening width of less than 125mm.
With the turn of the handle you can open your window sideways to the inside for large airflow. In the sideways open position you can clean your window from the inside which makes cleaning upstairs windows very easy.
When closed, the seals and multiple metal-to-metal locking points of a tilt & turn window take effect, ensuring air infiltration is near zero. This means that you do not constantly need to heat (in winter) or cool (in summer) the air which leaks in. The air leakage of ineffective windows could be up to 5 times all the air in each room of your home per hour - just imagine the cost of that.
A secured night vent opening is available with tilt & turn windows, which offers high protection against intruders and driving rain. This function lets you sleep calmly whilst ensuring a healthy indoor environment with fresh air.
Are you into high tech? Then smart monitoring via the Siegenia Comfort app and the concealed integrated sensors could be the perfect option for you.
Special accessories and intelligent supplementary products of the patented German hardware used by Paarhammer support you and the lifestyle needs of your build and provide a major plus-point to security, comfort and quality of life every day.
For all your window and door enquiries, please visit www.paarhammer.com.au.