2 in 1 Stacking Wall & Automatic Sliding Door System from ADIS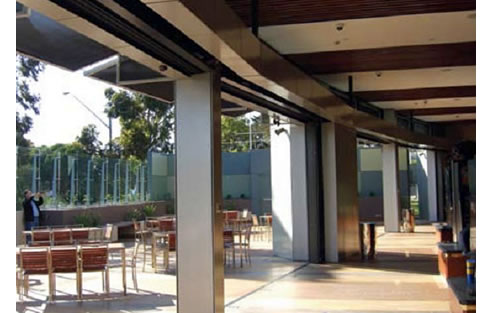 The 2 in 1 stacking wall and automatic sliding door system
Moving wall system for smoking terraces, outdoor entertainment areas, partition walls and showrooms.
The innovative design team at the Australian automatic door company ADIS have developed a new concept in door operating systems: the AUTO STACKER. This multi panelled door operating system allows quick, easy and effortless opening and closing of up to 20 metres of door panels instantly expanding any dining, meeting, exhibition or entertaining space. When open, the spare panels resemble a compact stacking wall system, maximising available room space and providing the flexibility of an adaptable floor space.
But the AUTO STACKER more than just a stacking wall system it is also an automatic sensor activated sliding door. Whilst in the closed position, the leading edge panels can be programmed to act like any regular automatic sliding door, opening and closing on approach, yet remaining securely and electronically locked at all other times. The AUTO STACKER can also be interfaced with existing building security and control systems, ensuring convenient after hours access and egress if required, without compromising the security of the building.
AUTO STACKER adds unforeseen flexibility and adaptability to an area: the size, layout and outward aspect of the space are at the flick of a with no need to handle bulky, heavy doors or complicated locks.
Features:
Ability to open up a glazed screen wall with the added use of an automatic door when the screen is closed.
Space saving and sleek design
Low maintenance, various finishes
Full automation up to 20m of a single doorway.
Attractive appearance
Able to be opened or closed under all wind conditions
Effortless operation of large doors
Cost effective in comparison to other manual stacking door systems.
Non Intrusive Tracking
The Tracking system is designed for quiet and smooth operation making it completely noise free and it requires minimal maintenance. Unique bottom floor glide system is used at the floor level which does not create any obstruction for movements across the doors.
Quite Operation
NG Stacker is designed for impressively quiet performance and operates smoothly day after day. Weather you are located inland or by the sea. NG Stacker will offer complete weather protection and is totally corrosion resistant. It is durable in all types of weather conditions.
Varied opening configurations
The doors can be programmed to open either left or right. They can be customized to the customers' requirements.ADIS NG Stacking is an ideal system for opening up dinning and entertaining areas in homes, restaurants, hotels and resorts.
High Security Locking
In ADIS Automatic Triple Slider a purpose built motor is used which includes an electric locking system and ensures that the doors can be securely fixed in any position. This method of locking ensures the highest level of security.
Advanced Technology
ADIS utilizes the latest technology in digital microprocessor technology giving the control unit multiple programmable modes including: provision to interface with building security & home automation systems and make operational adjustments as needed.