Sustainable Green Roof System from Elmich Australia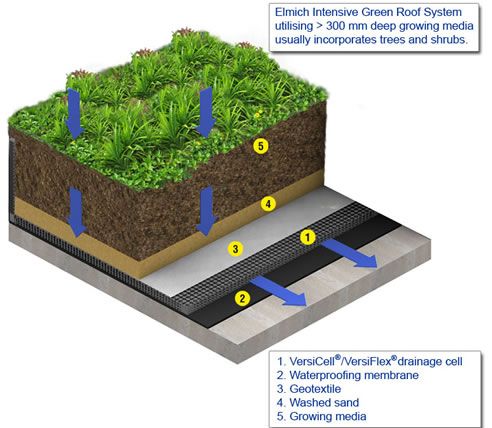 Elmich Green Roof System offers specifiers design flexibility to create aesthetically pleasing, heat and sound insulating, value added green roof gardens that cater for a wide range of plant species grown in diverse climatic and environmental conditions.
The Elmich Green Roof System incorporates a wide range of proprietary products to suit virtually any design requirement for both intensive and extensive roof garden applications. Highly UV stable and root resistant waterproofing membranes, drainage cells, water retention and drainage trays, geotextile and cellular confinement cells in addition to paver and decking support products all may be incorporated to create functional green roof garden areas.
ADVANTAGES OF ELMICH GREEN ROOF SYSTEM
Efficient water retention and drainage
Easy to install components
Facilitates active plant growth
Waterproof membrane protection
Reduced irrigation frequency
Reduced weight on building structure
Improved sound insulation
APPLICATIONS
Roof gardens
Podiums and decks
Courtyards
Planter boxes