Patio Shade Blind Melbourne from Undercover Blinds & Awnings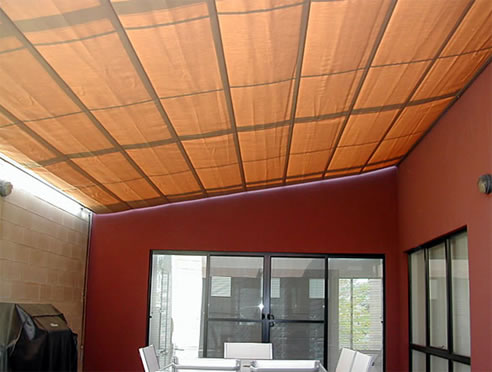 The Pleated patio shade makes a great addition to any external pergola or patio area. The patio shade is a concertina awning that extends via tracks fitted to your existing structure and is operated via a pull stick, cord drawn operation or motorization.
The Patio shade is ideal under polycarbonate or glass roofs which often heat up to unbearable temperatures in the warmer months. This makes outdoor living more comfortable and creates a certain ambience to outdoor living that can only be achieved with the quality of an extendable shade system customized to suit your requirements.
We can also customize an overhead structure to carry the Patio shade tracks if required. As endorsed suppliers of the 'Horizon shade system' and wholesale manufactures we are able to meet almost any requirement your unique area may require.
The Pleated patio shade or Horizon shade comes in a massive variety of colours, fabrics and styles so why not get one of our qualified representatives to visit your site today.