Heated Swimming Pools with Digiheat from Waterco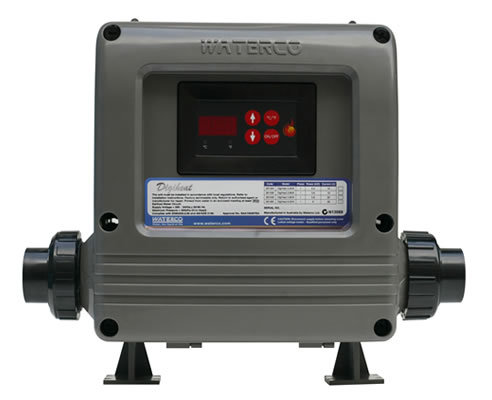 New digital, self-diagnosing electric heaters
Waterco releases next generation Digiheat
Waterco's Digiheat inline electric heaters have been given a major makeover, and the new digital heaters have a greater set of features than their predecessors - at a lower price point.
"We rebuilt the heater from the ground up, used a more durable heating element, and increased longevity by replacing the steel housing with non-corrosive, UV-stabilised thermoplastic," says Bryan Goh, Waterco's group marketing director.
Reminiscent of art deco design, Digiheat's streamlined shape features a horizontal orientation and soft, rounded edges. Its compact versatile design enables it to sit unobtrusively in the spa equipment area. In addition, the weight of the heaters has been decreased.
A key feature is Digiheat's digital control panel, which provides a continuous digital pool temperature display and incorporates a self diagnosis system. In the event of a problem, the control panel will display diagnostic error codes.
"Not only is the new Digiheat easier to use than the previous generation, it also comes with built-in safety devices which prevent overheating with a special sensor, and shut down the system in the event of no water flow," Goh explains.
The Digiheat is available in single phase and three phase models, which feature four-button programming. The polymer coated, Incoloy alloy heating element improves corrosion resistance, increases heating efficiency, and extends the product life. It also has an adjustable pressure switch to suit individual installation requirements and quick connect unions for ease of set-up and maintenance.
"Digiheat inline electric heaters are ideal for owners of spas who want a fuss-free product which enables them to get the maximum value out of their investment year round," Goh adds.
Key features of Digiheat include:
Streamlined design
Non-corrosive, UV stabilised housing
Digital temperature display and self-diagnosis
Easy-to-operate, four-button programming
Polymer coated Incoloy alloy heating element for improved corrosion resistance
Built-in over temperature safety sensor to prevent overheating
Adjustable pressure switch
Available in a range of sizes: 4.8, 6.0, 18 and 24 kW