AutoSlide Automatic Door Kit Video from ADIS
DIY Door Automation
Australian Designed, World Patented Technology - Easy Do-It-Yourself Automatic Sliding Door Operator.
Available now from the Spec-Net Shop, Autoslide is designed to be a universal, easy do-it-yourself product that retrofits to your existing, free-running, residential sliding doors.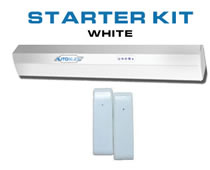 AUTOSLIDE™ Starter Kit - White
This Starter Kit is the first step in automating your existing sliding doors. Once installed, doors can be opened with just a push of a button. Doors will then automatically close after a pre-programmed time delay which can be adjusted to suit your preference.
Available in Black or White to complement existing door colours / door frames.
To see more from the Autoslide range of Automatic Door Solutions in the Spec-Net Online Shop, click here »