Braille Signage Increases Independence from Hillmont Signs Sydney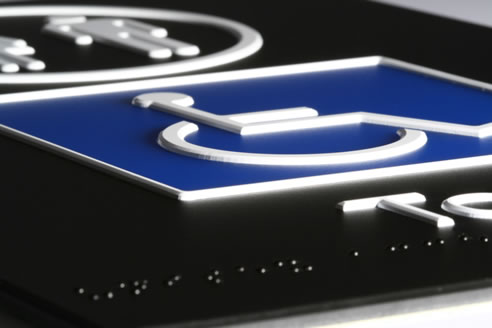 There are many different strategies used by people who are blind or have low vision that assist with enhancing their independence and safety at home and in the community.
Daily activities can be modified and different techniques used to enable a person with vision loss to participate in activities that are important to them.
Two of the most significant impacts on daily life as a result of vision loss are increased difficulty with reading and writing.
With the use of various technology such as magnifiers, correct lighting or screen readers, most parts of life can still be accessible for you. Technology provides all sorts of useful tools to stay organised, keep in touch, get things done, browse the internet, relax with a book and more. This includes using their phone independently. And mobile phones are increasingly becoming more usable.
Talking Vision is Vision Australia's national radio program on blindness and low vision. https://www.visionaustralia.org/about-us/news-and-media/latest-news/news/2014/11/20/talking-vision-trusting-your-horse (Source: Vision Australia)
Increased Braille signage also helps to enhance the independence for the vision impaired.
Hillmont Braille Signs is one of the most successful and innovative manufacturers of Braille in Australia and have been manufacturing and supplying Braille /tactile and general signage solutions throughout Australia for over 15 years from our Northwest Sydney location (now based at Castle Hill).
High profile projects include the award-winning wayfinding system at the University of Sydney, many of the facilities for the Sydney 2000 Olympics as well as the Epping to Chatswood railway and Braille signs inside the new Oscar railway carriages.
You are most welcome to visit our Castle Hill showroom and factory, email us or phone to discuss your needs (see contact details). Samples can also be provided.
Hillmont Signs uses Grade 1 U.E.B. (Unified English Braille) which is the current standard for Braille in Australia with all of our designs meeting or exceeding the requirements of D3.6 of the Building Code of Australia and AS1428.1 of the Australian Standards. We are also able to advise you on the compliance of your designs.