Self-Contained Bioethanol Burners from EcoSmart Fire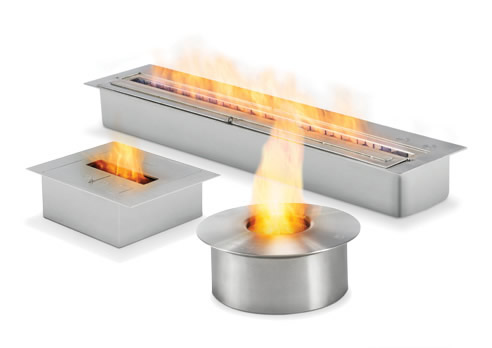 Bioethanol Burners
EcoSmart Fire bioethanol burners are completely self-contained so you have ultimate design flexibility. The residential and commercial creative design possibilities are endless when you use an EcoSmart Fire bioethanol burner.
Self contained simplicity
Because bio ethanol is clean burning, EcoSmart Fireplaces do not need a chimney or a flue - and because our fireplaces house the liquid bio ethanol in a purpose built tank, there are no restrictive cables or gas connections. This means that EcoSmart fireplaces can be installed just about anywhere.
No flue or chimney needed
The combustion of bio ethanol creates heat, and a small amount of water vapour and steam. This means you don't need a chimney or flue to use your fireplace.
No gas or electricity connection
The burner that holds the liquid fuel does not need to be connected to any exterior source of power, such as gas lines or an electrical socket.